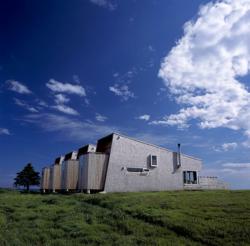 Someone once told me that Montréalers are people who know how to enjoy themselves and life. That is exactly right!
Berlin, Germany (PRWEB) March 14, 2013
Welcome Beyond has hand-picked the three most exciting places to stay in Canada including the website's latest addition Casa Bianca in Montreal, Rundles Morris House in idyllic Stratford and Shobac Cottages in a historic fishing village in Nova Scotia.
Casa Bianca is a beautiful pearl white maison situated in the epicentre of Montreal's Plateau, the city's most vibrant culture, dining and entertainment district. The Mont-Royal Park is literally Casa Bianca's backyard and a great place to have pick-nicks or play Frisbee. The B&B indulges guests with its minimalist, modern design accentuating the elegant richness of its interior. Each of the five bedrooms is unique: The Rachel suite features a beautiful fireplace, two other rooms have claw-foot bathtubs facing the park, while another one has a private terrace. Casa Bianca offers a mouth-watering organic breakfast with home-made bread, muffins, scones and seasonal impulses created by their guest chefs. Visitors may use the vegetarian kitchen which also regularly hosts dinners, wine tastings and special events. "We are a spacious yet intimate space where one can find peace and solitude or forge new friendships over coffee in the morning. We care for our guests and are attentive to their needs because we want them to have a great experience in this magical city."
From one magical city to another: "Rundles Morris House offers the best of town and country. It feels pastoral and urban at the same time," owner James describes enthusiastically. Stratford, which is less than a two hours' drive from Toronto, is one of the best places for a quiet get-away offering an unparalleled culinary and theatrical experience. Japanese architect Tadao Ando inspired the Rundles Morris House's modern and minimal design, making it look and feel much larger than its 1800 square feet. A nicely-appointed living room with a wood-burning fireplace offers wonderful views of the Avon River and the parklands. Throughout the house, guests will find the finest examples of modernist furniture and lighting fixtures sourced from Europe and North America. Distinct from any other restaurant in town, next-door Rundles Restaurant offers gourmet dining since 1977.
At Shobac Cottages one feels a little like staying at the end of the world: located on the peninsula of Nova Scotia on Canada's east coast, it is surrounded on all sides by sea and rolling hills that wrap around it. The French farming and fishing village was completely abandoned when architect Brian decided to integrate the ruins into a unique lodging experience. The cottages, the tower, a studio and a reconstructed historic barn form their own little microcosm: "When you're here, you feel like you don't want to leave the valley because you can see everything from here — wild nature, cultivated landscape, the ocean, islands, beaches, topography," Brian states. He also offers guided tours and food from the organic vegetable garden and guests can go kayaking or salmon fishing while kids love to feed the freely running sheep.
For more information about other unique boutique hotels and vacation rentals visit Welcome Beyond.