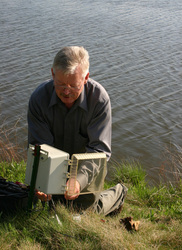 Professor of biology Dr. Philip Whitford has spent a lifetime studying Canada geese – especially what makes them GO AWAY.
Eugene, OR (Vocus) July 14, 2010
Who doesn't love the sight and sound of a skein of Canada geese honking overhead? Well, pilots and airport authorities! Canada geese can spell big trouble. Their numbers have increased exponentially, turning the species from a beloved migrant visitor to a destructive nuisance. Pest geese now pose a significant hazard to health, and even life. Since last year's 'Miracle on the Hudson' galvanized and inspired the nation, most of us now know it's in the air that Canada geese can inflict the greatest havoc.
But pest geese are a problem on the ground, too. Goose droppings cause widespread pollution in ponds, lakes, golf courses and parks. Children 'go through the motions' on sports fields nationwide – playing amid feces that contain salmonella, e. coli and a host of other organisms. Unwelcome Canada geese tear up lawns and decimate newly-planted crops.
What to do? Enter 'Dr. Goose.' Emeritus professor of biology Dr. Philip Whitford has spent a lifetime studying Canada geese – especially what makes them GO AWAY. With wit – and a lasting admiration and affection for the species – 'Dr. Goose' regularly explains to lay and scientific audiences the biology, habits and little-known quirks of these attractive but problem birds.
The first and only researcher to capture the rare goose 'alarm' call in a recording, 'Dr. Goose' specializes in the vocalizations of geese. These may sound alike to us, but in fact they are unique and highly distinctive – if you are another goose. Working with Pest Bird Companies like Bird-X, Inc., a leading industry authority, over a number of years he has developed and tested an 'alarm and alert' call playback device called the GooseBuster®. Its four speakers relay digital, lifelike recordings of these natural warning calls across a wide area. Humans hear a familiar, haunting, call-of-the-wild cry; but to pest geese, these 'wilderness' sounds signal danger. Multiple studies have shown that problem geese respond instantly – and stay away. Dr. Whitford's most recent tests, near the goose-filled Horicon Marsh in central Wisconsin, show high efficacy rates and long-term effectiveness in keeping the geese away from valuable young crops – a favorite food source. Across all control methods tested in various published studies, the on-demand playback of Canada goose alarm and alert calls has been shown to be most effective.
It's vital to understand the geese, since their behavior is affected by instincts that may work for or against our attempts to control them. It's also highly seasonal. It's very hard to move on nesting geese with young goslings, as the adults are flightless at this time – but late summer is a fine time to start. These efforts pay off again in early spring, when returning geese can be driven elsewhere before they reclaim their territories. Geese are smart – too smart, when we are trying to fool them. They quickly learn when a scheduled visit from a collie is due, and return happily to the property once the dog has moved on to the next client. Their eyesight and hearing are far more acute than ours. Social and wary creatures, geese survive by warning each other immediately when threats loom. 'Alert' calls spell danger. Notching up the panic level, the 'alarm' call of another goose is the equivalent of a five-alarm fire. It prompts instant escape, without hanging around to see what the problem might be.
A pilot himself, 'Dr. Goose' is all too familiar with problem wildlife. (He once narrowly escaped serious injury in a collision with a deer on a rural runway. In filing the required report, he was bemused to be asked at what altitude the incident took place.) A familiar figure at pest management and Bird Strike conferences, he lectures nationally and internationally. Fully certified by the FAA as an airport wildlife hazard management consultant, Dr. Whitford is now available to assist in implementing FAA approved wildlife management plans for airports.*
For all problem geese situations, the doctor advises a multi-faceted approach, with zero tolerance for pest geese to remain. Controlling pest geese is an ongoing task, based on scientifically sound insight and research. Since geese are protected, their eggs may only be oiled or addled with a permit. Success may combine habitat alteration with taste aversions, visual and (most importantly) sonic scares to persuade these beautiful but messy visitors to move on.

Certified FAA wildlife hazard management consultants advise airports on wildlife population management and dispersal techniques, endangered species act compliance, wetlands mitigation, pesticide usage, drafting and implementation of integrated wildlife hazard management programs, and review of applicable local, state, and federal laws, regulations, and ordinances under the requirements of Title 14, Code of Federal Regulations, Part 139.
If wished, Dr. Whitford is available for interview by arrangement
Media Contact Alison James (312) 226-8450 ajames (at) bird-x (dot) com
# # #