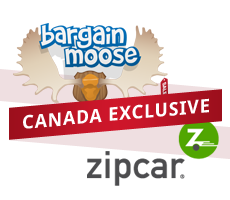 Winnipeg, MB (PRWEB) January 21, 2013
Canadian deals community Bargainmoose.ca has launched a new web page designed to find and track all the latest Zipcar coupon codes. Zipcar is the upstart car sharing service who promises "wheels when you want them" at locations throughout Canada.
"The Zipcar service is really great for urban folks who don't want the hassles of owning a car," commented BargainMoose owner Anna Waters. "We're proud to be providing a place for those people to find deals and know how much they can save when they use the service."
The Bargainmoose page shows users all valid and previously posted coupon codes and also features an email alert system to let shoppers know when new coupon codes are added. With the help of their fast growing community, the Canadian deals site keeps the Zipcar page up-to-date with the latest coupons, ensuring that no discount goes unnoticed.
In addition to the dedicated coupon tracker, Bargainmoose has also secured an exclusive discount for readers who want to make use of the Zipcar car-sharing services. New members of Zipcar can receive a free $25 driving credit to use towards their first trips. The exclusive Zipcar coupon code is good to March 2013 for Canadian users.
"I think it is a win-win situation for Canadians and the people at Zipcar." Waters continued. "It's an opportunity for Zipcar to gain new customers and a chance for consumers to save time and dollars when running errands. We've seen a number of great coupons in the past, including a short-term coupon for up to $75 free driving credit. Offers change on a regular basis though, so we'd recommend popping your email address in to the email subscription field."
Although Zipcar is widespread in the US and parts of Europe, only two Canadian cities currently have vehicles available. Toronto and Vancouver are the trial cities where consumers can take advantage of the Zipcar coupon codes. Rental rates can be as low as $8 an hour and cars can be rented on an hourly or daily basis. Unlike many traditional car rental agencies, the cost includes gas and insurance for the vehicle.
About Bargainmoose
Bargainmoose is one of the top Canadian deals communities and was first founded in 2008. The deal sharing site has helped more than 4 million shoppers throughout 2012. Thousands of Canadians visit daily to find and share all the latest shopping deals, freebies and coupon codes, as well as read the latest deals on the Canadian bargain blog.
About Zipcar Canada
Zipcar is a car-sharing company which has been operating in the Americas for more than a decade, and is now the world's leading car-share network. Canadian cities currently covered by the service are Vancouver and Toronto.