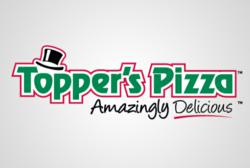 Canadian Franchise Opportunities helps take our franchise development efforts to a new level by providing us with the opportunity to truly engage high-quality candidates. - Keith Toppazzini, Co-Owner of Topper's Pizza.
State College, PA (PRWEB) March 27, 2013
Topper's Pizza has aggressive growth plans for the coming years and is looking for better ways to find and engage high-quality franchisee candidates. Many franchisors are experiencing diminishing returns with the traditional methods of franchise development (trade shows, portals, brokers, etc.) and are looking for more innovative, cost-effective approaches.
For those looking for franchise opportunities, finding the right franchise can be a challenge. For example, the person looking for a pizza franchise can type in the phrase, "pizza franchise in Canada" into Google.ca and over 3 million search results are provided. With so much information, it is easy for the prospective franchisee to become overwhelmed. Additionally, with the popularity of social media and increasing security concerns, people now expect two-way communication and are reluctant to enter personal information on a website form just for the opportunity to talk with someone in person.
People don't want to fall into a sales trap and they no longer want to be sold -- they want to be educated on why a particular franchise would be a good fit for them. They want help in making an informed decision, not a slick sales pitch. According to Daren Coudriet, Founder of FranchiseWeb360.com, "The web has evolved greatly in just the past few years. Social media is changing the game and franchisors need to change their thinking on how they find and secure franchisees, and view them more as strategic partners."
With new franchise business models seemingly sprouting up every week, the challenge for a person finding the right franchise has gotten harder. Without question, there are many more franchises today than there were just a decade ago, increasing the competition for candidates. So, someone searching for pizza franchises can get lost in a maze of franchise opportunities if they are not provided with some guidance.
Canadian Franchise Opportunities was created for prospective franchisees, providing articles, tips and tools to help educate them on all things franchising - understanding, researching, evaluating, selecting and buying a franchise. Its mission is to help those considering franchising to get smart about this business model -- helping them to recognize high-quality franchise opportunities when they find one.
Please visit Canadian Franchise Opportunities to explore what the company offers prospective franchisees and give us your feedback.
About:
Canadian Franchise Opportunities (TM)
Canadian Franchise Opportunities (CFO) was created by a franchisee for prospective franchisees with the purpose of giving them the "straight scoop" on franchising. While educating individuals who are seriously considering franchising as a business model, CFO strives to increase awareness around specific franchise opportunities. In doing so, it helps entrepreneurs and franchisors engage in a non-sales manner, helping both to achieve higher levels of success.  
web: CAfranchiseOpportunities.com
Contact: inquiries(at)CAfranchiseOpportunities(dot)com
Topper's Pizza Franchise
Since 1982, Topper's Pizza has been creating the best pizza experience for its customers and it now has 35 franchises and growing. With a 100 plus year old secret family Italian bread recipe, a culture of innovation, and a focus on its franchise partners' success, Topper's Pizza stays ahead of the curve and provides its Franchise Partners with the competitive edge needed to succeed in the pizza business.
web: toppersfranchise.ca
Contact: cailin.white(at)toppers(dot)ca