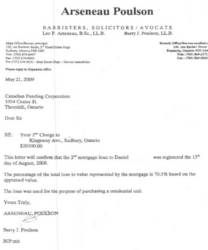 Thornhill, Ontario (PRWEB) June 6, 2009
The Canadian Funding Corporation, issued a second mortgage at 70.5% of Loan To Value, in order to purchase a residential unit in Sudbury, Ontario. This mortgage is one of several hundred issued by Canadian Funding Corporation in the past three years.
Regarding the loan, Moishe Alexander commented, "Typically banks won't issue loans with such a high loan to value, and particularly when the people applying for the loan are in financial trouble. Canadian Funding Corporation has the ability to issue mortgages in situations that make sense, even when banks can't."
About Moishe Alexander
Moishe Alexander first established his impressive business career in summer 2005, when he grasped leadership of the Canadian Funding Corporation as the company's President. Alexander and his firm specialize in underwriting mortgage loan applications, and Canadian Funding Corporation has helped broker over 195 high-ratio loans in less than 4 years of business. Moishe Alexander exhibits a serene diligence while performing presidential duties for the company, leading it down a path of financial success that allows Alexander to enjoy a steady stream of clients.
Moishe Alexander has brokered deals that have jumpstarted important urban development, keeping people in their homes and promoting healthy growth. Moishe Alexander takes his passion for helping people into his personal life as well, regularly participating in charity events that sponsor community rebuilding and organizational growth. Additionally, Alexander has sponsored golf tournaments, raffles, and gala dinners.
Expertly demonstrating a balance between corporate pressure and philanthropic diligence is possible, Moishe Alexander contributes extensively to the Jada Foundation, Chabad-Lubavitch, United Chesed Charity, Canadian Cancer Society, and Humane Society. Alexander has also devoted a substantial portion of his charitable activities toward undisclosed nonprofit organizations, as well as given anonymous personal donations. Through his charity work, Moishe Alexander has fed and clothed many families and established a spirit of positive community involvement that has inspired all those who have seen him in action.
For More Information:
Please see the Canadian Funding Corporation website or Moishe Alexander's website for more information regarding the company, or real estate financing.
###