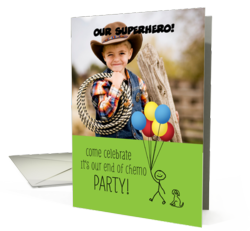 It is a honor to become a Cape Crusader supporting the efforts of Kiss The Toad Creations bringing smiles to the faces of pediatric cancer patients across the country
San Francisco, CA (PRWEB) September 04, 2012
In support of patients undergoing treatment for pediatric cancer, this September during National Childhood Cancer Awareness month, Greeting Card Universe, the world's largest greeting card store, will donate 100% of profits from the sales of specific greeting card collections to Kiss the Toad Creations.
"Thousands of children are diagnosed with pediatric cancer each year," says Mindy Rosso-Gaemi, Community Manager at Greeting Card Universe. "Over the last 20 years with improvements in diagnosis and treatment, the five year survival rate of pediatric cancer patients has risen dramatically. Still, these children and their families face significant battles."
According to the National Cancer Institute, on average each year, approximately two out of every ten children between the ages of birth and 19 years in the United States are diagnosed with cancer. The most common childhood cancers are forms of leukemia (blood cell cancers), brain and nervous system cancers, and tumors.
"Cancer is the number one cause of disease related death among children according to statistics compiled by the American Childhood Cancer Organization. Treatment is vital, but it isn't pleasant," says Rosso-Gaemi. "One of the more visible and emotionally devastating side effects of chemotherapy and radiation treatment is hair loss."
Temporary hair loss due to cancer treatment lowers a child's self esteem and confidence by making them worry about fitting in while looking different than their peers. A number of organizations assist childhood cancer patients with wigs including Wigs for Kids which has been providing hair replacement systems for children with temporary and permanent hair loss attributed to a variety of medical conditions at no cost for over 30 years.
Similarly delighting and bringing smiles to pediatric cancer patients across the country is San Francisco based company, Kiss the Toad Creations, that bestows upon children facing life threatening illnesses the simplest of treasures, a superhero cape. Founder Barbara Casados shares, "It is our belief that the real superheroes in this world are the children who are battling a life threatening illness and it is through their courage and superhuman strength that we are inspired to help support them in their fight by presenting them with their official superhero cape. " Continues Casados, "They wear the capes and they feel brave. It gives them a sense that it's going to be OK".
"We believe that childhood cancer patients need support and encouragement from the community in addition to their families, therefore during the month of September, Greeting Card Universe has pledged be among the "Cape Crusaders" and donate 100% of profits from the sales of greeting cards in these unique categories: Congratulations - Donating Your Hair Cards, Congratulations - Cancer Survivor/Treatment Cards- End of Chemo and End of Chemo Party Invitations to Kiss the Toad Creations," says Rosso-Gaemi.
Shoppers can personalize the inside of all cards at Greeting Card Universe with their own text and photo. Additionally, custom greeting cards can also be created within 48 hours at no additional cost by requesting changes or a totally new design from our artist community of over 5,300 freelance artists from around the world.
Greeting Card Universe's traditional and niche offerings of over 564,000 cards gives nod to the importance of choice and personalization in today's marketplace and stays true to its tagline "any card imaginable."
Kiss the Toad Creations: http://www.kissthetoadcreations.com/
Wigs For Kids: http://www.wigsforkids.org/
National Cancer Institute: http://www.cancer.gov/
American Childhood Cancer Organization: http://www.acco.org/
About Greeting Card Universe
Greeting Card Universe (http://www.greetingcarduniverse.com) is a division of BigDates Solutions, a private company that provides consumers with unique, personalized services for any holiday or occasion. Greeting Card Universe is the world's largest paper greeting card store, offering an unlimited selection of custom greeting cards, birthday greeting cards, photo cards, invitations, and note cards. BigDates Solutions is the leading provider of Online Reminder Service Solutions, powering gift-reminder services, including 1800Flowers.com and FTD.com. The company is also the owner of Birthday Calendar, a Facebook application with over 43 million installs.