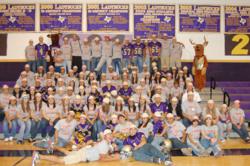 Be Bold, Be Bald! is a much more meaningful experience than any event I have ever participated in.
Boston, MA (PRWEB) August 30, 2011
In less than three years, Be Bold, Be Bald! has become one of the most talked about fundraisers for cancer charities in the country. Instead of a physical challenge, Be Bold, Be Bald! poses a vanity challenge – one that many cancer patients do not have a choice about. For just one day, October 21, participants wear a bald cap while going about their regular activities.
Without any physical or geographical limitations, the event has attracted individual and team participation from virtually every state in the US. Businesses, retailers, school organizations, parent teacher organizations, fraternities, sororities and others are signing up to take stance against cancer together.
"What's great about Be Bold, Be Bald! is that anyone can participate," states Tristian Monterastelli, captain of Team Nerland and Stevens Hall in Fairbanks, Alaska. "The event also opens your eyes up to one of the challenges cancer patients often have to face—the stares and awkward looks from those around you. You get a sense of what it is like to lose your hair. It is a much more meaningful experience than any other event I have ever participated in."
Aside from its national appeal to participants, Be Bold, Be Bald! has brought together cancer charities from all across the country. Participants can choose from a range of cancer organizations for which they would like their proceeds to benefit—from large organizations such as The Jimmy Fund, LIVESTRONG, Susan Love Research Foundation and The Prostate Cancer Foundation to smaller local organizations such as Heaps of Hope, Michelle's Fund, No Stomach for Cancer, UCLA Jonsson Center for Research, The Pablove Foundation and Jeffrey's Voice.
"We are so excited to be a part of Be Bold, Be Bald!," states Holy Walton, Executive Director of Heaps of Hope. "As a small non-profit, we do not have the resources to plan and manage large fundraising events. Be Bold, Be Bald! enables us to participate and benefit from a meaningful national fundraising event."
In its first two years, Be Bold, Be Bald! has raised more than $250,000 for cancer charities. This year, Small Army for a Cause, the non-profit organization that manages the event, plans to continue that success with help from local and national media companies, including Clear Channel, MNI (a Division of Time Inc.), Titan Media and others. The organization is also hoping to get celebrities, politicians and television personalities to join in – and put their vanity aside for just one day.
To be a part of Be Bold, Be Bald!, visit http://beboldbebald.org to sign up. All registered teams and participants receive a bald cap, t-shirt and a variety of offline and online fundraising tools. Registration closes on October 14, as packages need to be shipped in time for the event, so be sure to register as soon as possible.
Be Bold, Be Bald! is managed by Small Army for a Cause, a 501c3 organization committed to helping raise awareness and funds for medical-related causes. Small Army for a Cause was founded in 2008 by Boston Advertising Agency, Small Army, in honor of its co-founder, Mike Connell, a 2-time cancer survivor who lost his life to the disease in November 2007.
###