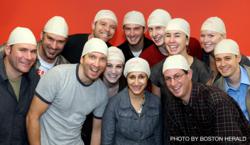 Too many people view a bald head as a sign of weakness...we view it as a sign of incredible bravery and strength.
Boston, MA (PRWEB) October 21, 2011
If you see someone wearing a bald cap today, don't stare or walk away. Instead, thank them for honoring those who bravely battle cancer, and ask them to share their story with you. They are part of a national movement called Be Bold, Be Bald!, where thousands of people, from Alaska to Florida, are donning bald caps in honor of loved ones - many of whom do not have a choice about losing their hair when battling cancer. And, they are getting sponsored by friends, family and colleagues for their bold move.
The movement was started by Boston advertising agency, Small Army, after losing its co-founder, Mike Connell, to cancer in November 2007. And in less than three years, the event has attracted more than 6,000 participants who have, together, raised more than $300,000 for cancer charities.
"We started Be Bold, Be Bald! as a way to honor Mike and continue his fight," states Jeff Freedman, the other co-founder of Small Army and CEO of the non-profit, Small Amy for a Cause. "Too many people see a bald head as a sign of weakness. But after watching Mike battle the disease, we view it is a sign of incredible bravery and strength, and wear the cap to honor that. We are humbled by the number of people who have joined us in the fight to honor their loved ones and help them fight back."
Unlike other cancer fundraisers, people can participate from anywhere in the world, without needing to train or take time off from work or school. They just put the bald cap on when they wake up, and take it off when they go to bed. Participants receive a bald cap, fundraising tools and other materials when they sign-up on the Be Bold, Be Bald! website.
"What's great about Be Bold, Be Bald! is that anyone can participate," states Tristian Monterastelli, captain of Team Nerland and Stevens Hall in Fairbanks, Alaska. "The event also opens your eyes up to one of the challenges cancer patients often have to face—the stares and awkward looks from those around you. You get a sense of what it is like to lose your hair. It is a much more meaningful experience than any other event I have ever participated in."
More than twenty-five cancer charities benefit from the event, from national organizations such as The Jimmy Fund, LiveStrong and Stand Up To Cancer, to local or niche organizations such as The International Multiple Myeloma Foundation, Heaps of Hope, The Pablove Foundation, Aimee's Army, UCLA Jonsson Center for Research and Jeffrey's Voice. When signing up, participants select the charity to which they would like their proceeds to benefit. In 2010, Small Army for a Cause donated more than 100% of the directed funds to each beneficiary. With generous donations, low over-head and high volunteer efforts (especially from employees at Small Army), it expects to do the same in 2011. One hundred percent of all net proceeds are donated to the beneficiary organizations.
"We are so excited to be a part of Be Bold, Be Bald!," states Holy Walton, Executive Director of Heaps of Hope. "As a small non-profit, we do not have the resources to plan and manage large fundraising events. Be Bold, Be Bald! enables us to participate and benefit from a meaningful national fundraising event."
To learn more about Be Bold, Be Bald!, view photos, read stories or get involved, visit http://beboldbebald.org or http://facebook.com/beboldbebald.
Be Bold, Be Bald! is managed by Small Army for a Cause, a 501c3 organization committed to helping raise awareness and funds for medical-related causes. Small Army for a Cause was founded in 2008 by Boston Advertising Agency, Small Army, in honor of its co-founder, Mike Connell, a 2-time cancer survivor who lost his life to the disease in November 2007.
###