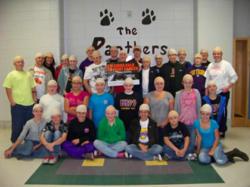 It's not a physical challenge, it's a vanity challenge.
Boston, MA (PRWEB) August 31, 2012
Today, Small Army for a Cause opened registration for its 4th annual Be Bold, Be Bald! cancer fundraising event, where participants wear a bald cap on November 2 to honor those who battle the disease, and raise money to fight back. The event has become a national movement, with participants from Boston to Alaska participating individually or as part of corporate, student and community teams.
Anyone can join the movement at the event website, for free. Upon doing so, members are given access to a personal fundraising page where they can promote their participation and get sponsored by their friends, family and colleagues for "going bald" on November 2. There is no fundraising minimum to participate. Bald caps and other "bald accessories" are also available for sale on the event website.
The nation-wide event benefits more than 20 national and regional cancer charities including The Jimmy Fund, The Lance Armstrong Foundation, The Prostate Cancer Foundation, Heaps of Hope, Dr. Susan Love Research Foundation, No Stomach for Cancer, Jeffrey's Voice, Facing Cancer Together, The Pablove Foundation, UCLA Jonsson Cancer Center and Aimee's Army. The event is also still accepting applications for additional beneficiaries on its website.
"I jumped on the opportunity to participate in the Be Bold, Be Bald! movement with the UCLA Fights Cancer team last year," states Michelle Doose-Pena, a 2011 event participant. "I felt it was important to raise awareness for the teen/young adult cancer patients and survivors that I'm so privileged to work with each day. It will be such an honor to wear the bald cap again this November to show my support of those battling cancer and to raise money to fight the disease."
Participants simply select the charity for which they want their proceeds to benefit, and fundraising dollars are then distributed accordingly. To date, the organization has raised close to $500,000 and, in 2011, every beneficiary was awarded at least 100% of the funds raised on their behalf.
Facing Cancer Together (FCT) in Newtonville, MA was one of the beneficiaries of the 2011 Be Bold, Be Bald! fundraising efforts. Gail Bork, FCT's Executive Director, gratefully shares "It's an incredibly creative and empowering way to help raise much needed funds for non-profit cancer organizations. The money raised through last year's event allowed Facing Cancer Together to provide over 30 support group sessions to people living with cancer."
Be Bold, Be Bald! is unlike any other cancer fundraising event in the nation. It has no physical, geographic, time or financial constraints. Anyone can participate from anywhere in the world, going about their day as usual – expect that they do it "bald." And it supports so many cancer organizations – each of which has its own unique mission in the common cause.
Jeff Freedman, CEO of the event organizer, Small Army for a Cause, explains, "It's not a physical challenge, it's vanity challenge – one that many cancer patients do not have a choice about. Participating in the event is an eye-opening experience that not only shows solidarity, but encourages important learning and conversations about the disease."
Visit beboldbebald.org today to join the movement, start a team, support a worthy organization and help in the fight against cancer. Everyone who joins before September 10 will receive a 10% discount on all items in the Bald Shop.
Be Bold, Be Bald! is managed by Small Army for a Cause, a 501c3 organization committed to helping raise awareness and funds for medical-related causes. Small Army for a Cause was founded in 2008 by Boston Advertising Agency, Small Army, in honor of its co-founder, Mike Connell, a 2-time cancer survivor who lost his third battle against the disease in November 2007.