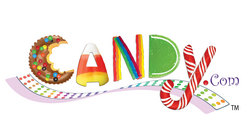 This is a new business with the same passion and some of the same family
Weymouth, MA (PRWEB) July 20, 2009
Candy.com the world's largest corner candy store is set to celebrate its launch just one month after the $3 million purchase of the candy.com web domain. Candy.com is open for business and poised to become a key leader in the multi-billion dollar, recession-proof confectionery industry.
The new online site will be the go-to destination for everything candy - selling more than 6,000 different candy items from 500-plus manufacturers, offering product reviews, blogs, customer giveaways and a special section for children.
Candy.com was co-founded by cousins Greg Balestrieri and Joe Melville who represent the third generation of the family-owned Melville Candy Company based in Weymouth, Massachusetts. "This is a new business with the same passion and some of the same family," Balestrieri said.
Candy.com was conceived two years ago when the cousins saw the growth of Melville Candy's online store grow by 371 percent. They knew then that it was time to take a greater stake in the nearly $30 billion retail candy industry and purchase the domain name Candy.com.
The $3 million purchase price of the prime online real estate was the second-highest domain sale of the year behind the $5.1 million paid for toys dot com by Toys "R" Us Inc. Balestrieri says, "We're willing to make this large investment to reach the largest number of consumers and we're going to look back and say that $3 million was a bargain for candy.com."
According to Melville, Candy.com gets more than 1,000 hits a day without any marketing or content on the site. The cousins, both graduates of Suffolk University's Entrepreneurship Program, estimate numbers will climb to 2500 unique hits a day in the early months, and to over 10,000 within 6 months. "We're confident we've made a wise business investment with candy.com."
Candy.com's incredible variety of candy selections will come from all over the United States and the world. Candy products from smaller manufacturers, memorable retro-candy adults enjoyed in their childhood, gluten-free candy, kosher candy and even healthy candy will all be found at candy.com.
Candy.com offers fine quality at competitive prices for businesses, gift shops, event planners and even brides and grooms, or new parents wanting to add a sweet touch to a special celebration. Candy gift selections like the popular Chocoholics Emergency Kit Candy Bouquet, a great treat for any occasion, will be available for quick delivery at an affordable price.
Unique gifts can also be searched and selected by occasion, favorite color, flavor, candy type and brand including: Hershey, M&M, Jelly Belly, Tootsie, Wonka, PEZ, Necco, Nestles, Jolly Rancher, Clark, Pop Rock, Lindt, Harry and David, Melville Candy and more.
According to CEO Greg Balestrieri. "We're going to revolutionize the candy industry by creating a fun and exciting candy community for children of all ages. The corner candy store is back!"
About Candy.com - Candy.com is located in Weymouth, Massachusetts and ships anywhere in the U.S. via UPS. For more information go to http://www.candy.com.
###