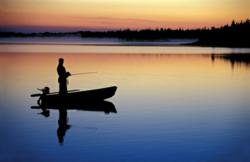 We spent 2 hours retrieving my canoe that ended up on the other side of the lake after the wind blew it there.
Sparks, NV (PRWEB) March 14, 2013
A Canoe Anchor can be a lifesaver for any fisherman. When sitting in a canoe, kayak or a float tube, a small boat anchor is a necessity for anybody floating on the water. Grapplers Inc. now announces that they are distributor for a lightweight, collapsible but very strong small boat anchor.
Many a fishermen have told stories about how a gust of wind sent their canoe or small boat across the lake but they weren't in it. Other people have slid their boat or kayak onto the shore of the lake or river, but either neglected to tie it down or couldn't find something suitable to tie off on. A similar gust of wind can easily dislodge the boat and send it downstream or across the lake.
Other fishermen have noted that if there is even the slightest breeze while they are fishing from a canoe, they will easily glide across the lake and lose their favorite fishing spot. Sometimes they have to paddle back to their original location and this not only wastes time, but can cause the fish to be concerned about what's happening on the surface and reduce the possibility of a good catch.
Many serious fishermen use float tubes to fish from and sometimes wind or underwater currents can move them away from shore into unsafe territory. A float tube anchor may at first seem a bit excessive and not really a necessity. It only takes one experience to realize how valuable a float tube anchor can be to prevent a difficult situation and another possible tragic fishing story.
There are several things to consider when looking for a canoe or kayak anchor. Any anchor is designed to grab onto something at the bottom of the creek, riverbed or lake and prevent the boat from moving. Anchors come in a variety of weights and are constructed with several different kinds of materials. A heavyweight anchor may or may not be as strong as a lighter one and the weight will become a major factor if the boat is to be carried any distance.
It also needs to be constructed of material that will not rust. Many very heavy iron anchors have powder coated paint jobs to protect the metal that can easily rust in water if the paint is chipped. After only a few uses the paint job becomes scratched exposing the iron to water causing rust. Once that starts there is no stopping it. And that rust will, over time, get all over everything. The boat, the floors, the seat cushions, the clothing, etc.
The rope that is used to attach the anchor to the canoe should probably be made out of nylon as that has become the type of rope that will last the longest after getting wet multiple times.
Most people only consider purchasing one anchor for their boat. The reality is that smaller boats work best with two anchors, one at each end of the boat. In this manner the boat can be kept at the desired angle or position on the lake instead of being turned around with every breeze.
On some forums some people have commented about competitor products that they have lost a tine, or sometimes got broken rather easily. This product is sold by a leading sports products distributor (not allowed to name but they produce a great catalog) and they have the highest standards in their equipment purchases. So far, there has never been a report of breakage on one of these Canoe anchors.
So every fisherman, kayaker, canoe aficionado or small boat captain can use the small boat anchor distributed by Grapplers Inc. Their website is: http://www.fishingandhuntingaccessories.com/canoe-anchor/
About the company: Grapplers Inc. is an award-winning company created by Jay and Bonnie Thiessens. The company offers quality Grappler tools as well as specialty fishing and hunting accessories, utilizing state-of-the-art technology and equipment to provide the best products possible. They pride themselves on their capable, caring staff, excellent product quality, and great customer service. Grapplers Inc. makes listening to customers and satisfying their orders their highest priority.