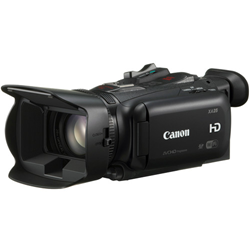 Canon Announces Two Compact Professional Camcorders, Enabling Wireless Digital Content Transfer—Available for Pre-Order at B&H Photo
NYC, NY (PRWEB) April 04, 2013
Canon XA25 HD and XA20 HD professional camcorders, provide an impressive combination of professional features and optics in a compact design. Ideal for run-and-gun style videography, or electronic newsgathering (ENG), both models weigh only 2.6 pounds, allowing for extreme mobility and portability. Both camcorders feature multiple shooting-assist functions and enhanced key components such as a newly developed Genuine Canon wide-angle 20x HD zoom lens with an ENG-style "rocker" zoom control and built-in real-time optical image stabilization.
Delivering outstanding low-light performance and image quality, the Canon XA20 and XA25 HD camcorders are equipped with a new high-sensitivity 2.91-megapixel 1/2.84-inch HD CMOS image sensor and the new Canon DIGIC DV 4 image processor.
Additional features include simultaneous recording of multiple bit rates and Full 1080p HD formats - including 60p and native cinematic at 24p - on two separate SD cards. Users can simultaneously record Full 1080p HD video at 60p in either AVCHD Progressive (28Mbps) or MP4 (35Mbps) format for crisp moving images, or record at a lower bit rate and transmit MP4 (3Mbps) format video to cover and quickly upload breaking news via wireless FTP file transfer. The cameras' dual SD slots allow for relay recording for long periods without interruption.
The nearly instantaneous rate by which video news is consumed and shared via TV, tablets and smartphones has fueled the immediacy by which journalists need to capture and deliver their content. The introduction of the Canon XA25 and XA20 professional camcorder models are designed to provide these professionals with a compact, portable, and wireless system for content acquisition and uploading; in addition, the tremendous growth of independent and documentary filmmaking as well as innovative, creative online content may also benefit from the compact design, high-quality formats and long-range optics found in both models.
Advanced Canon Optics
Drawing from the many innovations developed by Canon for its EF-series lenses, the wide-angle 20x HD zoom lens in the new Canon XA20 and XA25 HD camcorders features a 35mm equivalent zoom range of 26.8mm - 576mm. The MOD (minimum object distance) of this lens is only 60cm, enabling users to capture up-close shots, particularly useful when filming in narrow, tight quarters. Canon's real-time optical image stabilization and vibration correction in five axes of 3D movement helps reduce picture shake, even when shooting while walking, particularly useful for run-and-gun handheld videography. An eight-blade circular aperture can help create a natural, smooth look for out-of-focus areas such as a blurred nighttime skyline, and is equipped with Canon's unique EMD (Electro Magnetic Diaphragm) technology for high-precision control.
Optimal Operability
Ultra-compact and designed with professional operability and multiple shooting-assist functions, the new Canon XA20 and XA25 HD camcorders feature a handgrip with accessible joystick and other controls, allowing for easily adjustable settings including a broadcast-style zoom rocker. Each camcorder's wide-angle 20x HD zoom lens can also be adjusted using a multipurpose ring on the lens that can switch between zoom or focus control. A convenient custom key dial provides quick access to frequently used set functions.
The Canon XA25 and XA20 professional camcorders are the first Canon video cameras featuring an Organic LED (OLED) electrostatic touch panel. This 3.5-inch, 1.23 million-dot touch panel displays vivid, clear video images allowing for simple, intuitive operation and menu access. Five custom buttons on the panel allow operators to assign settings according to their unique shooting preferences. The camcorders also feature a 1.56 million-dot high-resolution adjustable-angle compact viewfinder, allowing users to see clearly even when filming in bright sunny conditions. The design also allows operators to use the viewfinder and check critical focus while recording.
B&H Photo is currently accepting pre-orders on the Canon XA20 and XA25 professional camcorders.
About B&H Photo Video
As the world's largest source of photography video and audio equipment, B&H Photo-Video is known worldwide for their attentive, knowledgeable sales force, and excellent customer service, including fast, reliable shipping. Visitors to the website can access a variety of enlightening articles and educational videos. B&H has been satisfying customers worldwide for close to 40 years.