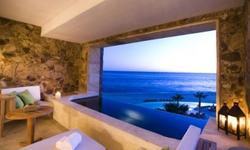 Throughout the Capella brand, the guest experience is defined by the desires of the individual, and at Capella Pedregal, each guest will feel cared for as if he or she is at the home of a treasured friend, with every need anticipated and each wish fulfilled through our 'sixth sense' for service
Cabo San Lucas, Mexico (PRWEB) March 27, 2009
With an opening date set for July 1, 2009, Capella Pedregal, Cabo San Lucas's long-awaited and highly anticipated new resort, readies for its debut while simultaneously heralding in an unprecedented era of hospitality to the destination. A growing sense of intrigue has been percolating for the intimate, beachfront hideaway, which is on track to surpass expectations of even the most discerning of travelers. The resort is now taking reservations for getaways and enticing introductory packages via Capella's toll-free reservations number, (877) 247-6688 and website, http://www.capellapedregal.com .
Boasting a prized and secluded cliffside setting where the Pacific Ocean meets the Sea of Cortez, the intimate Capella Pedregal will afford a standard of personalized service no other resort company can match. Upon arrival, guests emerge from a 1,000-foot private tunnel carved through the mountainside and are welcomed with a breathtaking expanse of azure sky and sea, introducing guests to an exclusive haven just minutes away from the lively appeals of downtown Cabo, yet seemingly worlds apart.
"Throughout the Capella brand, the guest experience is defined by the desires of the individual, and at Capella Pedregal, each guest will feel cared for as if he or she is at the home of a treasured friend, with every need anticipated and each wish fulfilled through our 'sixth sense' for service," said General Manager Peter Bowling, who leads a management "dream team" of Capella brand veterans and industry leaders who are at the service of Capella Pedregal guests.
Peter Bowling added, "We will always draw from the best local resources to create unforgettable, authentic Mexican experiences based on the guest's personal interests." No detail will be overlooked, promises Bowling, as the resort will offer tequila tastings of the most exclusive labels, to be enjoyed with fine cigars on the terrace; star gazing and lunada celebrations on the beach and an interactive cocina where guests can observe Capella's expert chefs at work and learn the secrets of fine Baja cuisine.
Further ensuring that each resort guest's desires are met will be a staff of Personal Assistants, a Capella brand signature, who can arrange everything from dining reservations to yacht excursions.
Baja culture will pervade every aspect of Capella Pedregal with guest room interiors that blend modern and traditional Mexican elements, the sophisticated design a collaborative work of three award-winning architectural firms: HKS, Inc. (exteriors), Paul Duesing Partners (interiors) and The SWA Group (landscaping).
Capella Pedregal provides a secluded oasis for travelers, with just 66 expansive and beautifully appointed guest rooms that range from 600 square feet to a 3,000-square-foot Presidential Suite. Each guestroom – regardless of size – boasts a private plunge pool and exceptional ocean views that are unmatched in Cabo.
The resort's centerpiece is the signature Auriga spa, a mystical and tranquil environment encompassing 10,000 square feet. The oasis boasts cave-like treatment pods, which float above a private pool giving guests direct access to the flowing stream of water from their pods. Open-air treatment areas make the most of Cabo's ideal year-round climate and provide unobstructed views of sea and sky. The Julien Farel Cabo San Lucas salon suite with exclusive bridal areas, by Madison Avenue's Julien Farel Salon, will provide unparalleled beauty and salon services and expertise in a luxurious and pampering atmosphere. Rounding out Auriga's impressive features are two deluxe couples suites with private tub and direct pool access; ladies and gentlemen's active and relaxation areas; steam, sauna and ice rooms; a private spa pool; a private 24-hour fitness facility, complete with personal training consultations. Spa Director Nicole Barry – who has overseen the introduction of Auriga spas and their distinctive lunar phase treatments at every locale – will bring to fruition the uniquely Bajan vision spa designer Sylvia Sepielli has conceived for her first-ever Mexican spa. Auriga spas are known throughout the world for their authentic representation of local healing traditions, and Auriga at Capella Pedregal will be no exception with its treatments informed by Mexican folk healing practices, and integrative wellness programs designed to enhance the lives of each guest. A personal spa assistant may also be assigned to those guests who wish for a more inclusive wellness experience during their stay.
In addition to 24-hour in-room dining, guests will have a choice of three restaurants showcasing the culinary talents of Executive Chef Marco Bustamante and his team. Don Manuel, the signature restaurant at Capella Pedregal, will feature contemporary Mexican cuisine, while El Farallon will specialize in seafood specialties and other light fare in a dramatic al fresco setting suspended over the crashing waves of the Pacific. All-day casual dining will be the focus of the relaxed Beach Club. A native of the Per Se kitchen, Chef Bustamante first joined the Capella team for the opening of the brand's first hotel, Schloss Velden, a Capella Hotel (Velden, Austria), whose restaurant earned the rare distinction of a Michelin star within six months of its debut.
Capella Pedregal occupies one of the most coveted parcels of land in Cabo – 24 beachfront acres at the southernmost tip of Mexico's Baja California Peninsula, near the legendary rock formations known as Land's End. It is 35 minutes from Los Cabos International Airport, which is serviced by direct flights from numerous major cities in North America. For more information on Capella Pedregal, please call (877) 247-6688 or visit http://www.capellapedregal.com.
Capella Hotels and Resorts serves today's top-tier travelers and residential property owners and is setting a new standard in the hospitality industry. Capella promises the unique benefits of the finest boutique hotels, including superb architecture and interior design, privacy, individualized service and attention to detail – combined with the amenities and activities of the world's great luxury hotels and resorts. Capella, led by founder Horst Schulze, is a brand focused on customer choice, and offers choices that no other hotel company in the world can match. Capella is opening world-class properties in gateway cities and high-profile resort destinations around the world, including: Breidenbacher Hof, a Capella Hotel (Düsseldorf, Germany); Capella Bahia Maroma (Riviera Maya, Mexico); Capella Dunboy Castle (Castletownbere, Ireland); Capella Ixtapa (Ixtapa, Mexico); Capella Niseko (Niseko, Japan); Capella Pedregal (Cabo San Lucas, Mexico); Capella Singapore (Sentosa Island, Singapore); Capella Telluride (Telluride, Colorado); and Schloss Velden, a Capella Hotel (Velden, Austria). Learn more at http://www.capellahotels.com
MEDIA CONTACTS:
Melissa Pogue/Kathleen Cullinane
Middleton & Gendron, Inc.
(212) 284-9937/(212) 980-9194
###