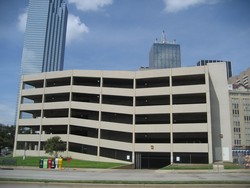 Capmark Finance helped the borrower refinance a maturing securitized loan by arranging the debt through one of our correspondent life insurance companies
Dallas, TX (Vocus) December 11, 2008
Capmark Finance, Inc. has originated a $2,100,000 loan to refinance Griffin Auto Park for a local ownership group. The six-story, 539-space parking garage is located in the southeast section of downtown Dallas known as the Government District. The loan has a 10-year term, 20-year amortization and a fixed interest rate below 7 percent.
One of only a few private parking garages in downtown Dallas, Griffin Auto Park has the added advantage of being located within walking distance of Dallas City Hall, the Dallas Convention Center, the Earle Cabell Federal Courthouse Building and a number of other downtown office buildings.
Vice President Ashley Harkness, a mortgage banker in Capmark's Dallas office, originated the loan, which was funded by Aviva Investors North America. The borrower was Griffin Street Auto Park, Ltd.
"Capmark Finance helped the borrower refinance a maturing securitized loan by arranging the debt through one of our correspondent life insurance companies," said Mr. Harkness. "It is noteworthy that we were able to secure financing with a favorable interest rate for a parking garage despite one of the most difficult credit environments in recent memory," he continued.
Photo available upon request.
About Capmark®:
Capmark is a diversified company that provides a broad range of financial services to investors in commercial real estate-related assets. Capmark has three core businesses: lending and mortgage banking, investments and funds management, and loan servicing. Capmark operates in North America, Europe and Asia.
Capmark Finance Inc., the U.S. real estate lending and mortgage banking operations of Capmark, has access to multiple capital sources and offers a full range of financing solutions and resources. Capmark Finance is a direct lender, a correspondent for insurance companies, pension funds and other capital markets conduits and one of the leading approved lenders for Fannie Mae, Freddie Mac and HUD/FHA.
With a servicing portfolio of approximately $363.2 billion as of Sept. 30, 2008 Capmark Finance is one of the industry's leading loan servicers.
Capmark Investments LP, the investments and funds management operation of Capmark, is an established manager of equity real estate and mortgage-related investments in the public and private markets with approximately $9.8 billion in investments under management as of Sept. 30, 2008.
For more information about Capmark, visit http://www.capmark.com.
Capmark Finance Licenses: CA: CA Dept of Corporations Finance Lender and Broker License and CA Dept of Real Estate, Real Estate Broker License #00398180 (brokering); MI: Capmark Finance Inc., Michigan Real Estate Broker, Phone 248-208-3460; NV: Capmark Finance Inc., 200 S. Virginia St., Suite 800-Office #804, Reno, NV, Phone 775-686-2490; NY: Capmark Finance Inc., New York Real Estate Broker.
Contact:
Joyce Patterson
215-328-3842
Joyce.Patterson @ capmark.com
###