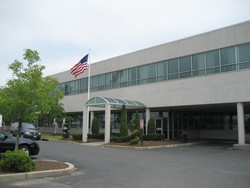 Carteret, NJ (Vocus) December 15, 2008
Capmark Finance Inc. (Capmark Finance) arranged $60 million in floating-rate financing for dry and cold storage facilities located at the Port Carteret Industrial Complex in Carteret, N.J.
Located on approximately 59 acres off Exit 12 of the New Jersey Turnpike in proximity to the Port of Elizabeth and Newark, the property consists of two buildings--one a dry grocery storage building and the other a freezer storage facility --- totaling approximately 1.1 million square feet. The facilities are fully occupied under a long-term lease by a food distributor.
Capmark Senior Vice President Brian Campbell originated the loan, which closed in just 21 days from application, for the borrower, an affiliate of KTR Capital Partners.
Property photos available upon request.
About KTR Capital Partners:
KTR Capital Partners is a real estate private equity fund manager and operating company specializing in the industrial property sector. Headquartered in New York City with offices in Philadelphia, Chicago, Miami and Los Angeles, KTR was established in 2004 by the founders and executive leadership team of Keystone Property Trust. KTR manages a series of discretionary value-add investment funds that target opportunities throughout major markets across North America. Since December 1997, the KTR team has invested nearly $3 billion of capital in over 250 properties, including approximately 50 million square feet of acquisitions and nearly 15 million square feet of development. KTR's current investment vehicles provide approximately $3 billion of investment capacity. For further information please visit http://www.ktrcapital.com.
About Capmark®:
Capmark is a diversified company that provides a broad range of financial services to investors in commercial real estate-related assets. Capmark has three core businesses: lending and mortgage banking, investments and funds management, and loan servicing. Capmark operates in North America, Europe and Asia.
Capmark Finance Inc., the U.S. real estate lending and mortgage banking operations of Capmark, has access to multiple capital sources and offers a full range of financing solutions and resources. Capmark Finance is a direct lender, a correspondent for insurance companies, pension funds and other capital markets conduits and one of the leading approved lenders for Fannie Mae, Freddie Mac and HUD/FHA.
With a servicing portfolio of approximately $363.2 billion as of Sept. 30, 2008 Capmark Finance is one of the industry's leading loan servicers.
Capmark Investments LP, the investments and funds management operation of Capmark, is an established manager of equity real estate and mortgage-related investments in the public and private markets with approximately $9.8 billion in investments under management as of Sept. 30, 2008.
For more information about Capmark, visit http://www.capmark.com.
Capmark Finance Licenses: CA: CA Dept of Corporations Finance Lender and Broker License and CA Dept of Real Estate, Real Estate Broker License #00398180 (brokering); MI: Capmark Finance Inc., Michigan Real Estate Broker, Phone 248-208-3460; NV: Capmark Finance Inc., 200 S. Virginia St., Suite 800-Office #804, Reno, NV, Phone 775-686-2490; NY: Capmark Finance Inc., New York Real Estate Broker.
©2008 Capmark Financial Group Inc. All rights reserved.
Media Contact:
Joyce Patterson
215-328-3842
Joyce.Patterson@capmark.com
###