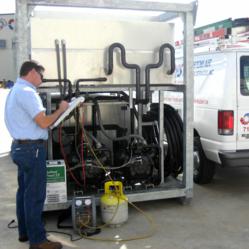 We must be prepared to provide field services wherever industry growth is occurring.
Houston, TX (PRWEB) March 28, 2013
Following successes in being awarded several major overseas product contracts, a number of Custom Air Products & Services, Inc. Senior Service Technicians are currently participating in startup and commissioning activities in the Kingdom of Saudi Arabia (KSA). Another team of technicians will be traveling to a different plant in another part of that country later this year, also for commissioning and startup work.
"Although we've worked outside the country on a number of occasions over the years," said Service Division Manager Don Spence. "We are always excited when these opportunities come along. Field opportunities like these provide our technicians—and others in our workforce—with unique experiences and operating environments". According to Spence, these experiences include negotiating and communicating across time zones, technologies, and cultural borders; interacting with large multi-layered multinational organizations; scheduling and deployment preparation activities; and, the training of multinational workforces. To successfully accomplish these project goals a number of roles are also involved including Sales, Estimating, Finance, Design, Project Management, as well as Field Services.
Taylor Norris, CEO of Custom Air Products & Services explained, "Although global mobility has not been a majority portion of our business in the past, our firm footing and continued growth in the industrial sector of HVAC means we must be prepared to provide field services wherever industry growth is occurring. Right now that means we are looking at expansions in the Middle East as well as South American markets and are examining the ways in which these opportunities will impact our product and service offerings."
In addition to startup and commissioning activities, deployed technicians will also be engaged in the training of company and contract technicians employed by the customer. This training will include equipment operations, basic maintenance, scheduling and performance of preventive maintenance, as well as basic troubleshooting techniques. Technicians are currently deployed in 30- and 60-day assignments.
About Custom Air Products & Services
Custom Air Products & Services, Inc. is a full-service HVAC company that specializes in the design, construction, installation, modification, and servicing of industrial and commercial air conditioning equipment. CAPS employees are committed to providing exceptional custom design and quality workmanship at competitive prices.
Custom Air Products & Services currently occupies four modern facilities, totaling 150,000 square feet in size. These buildings include administrative and engineering offices, training facilities, a filter warehouse, and service shops for fabrication, manufacturing, and modifications. CAPS services are provided to customers throughout the United States and Mexico while their manufactured products have been delivered to sites around the world.
For more information, contact Custom Air Products at 713.460.9009 or visit them on the web at http://www.customairproducts.com.
If you'd like more information about this topic, please call Bea Amaya at 713.460.9009 or email her at bea.amaya(at)customairproducts(dot)com.