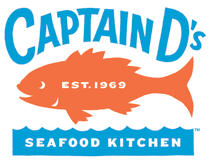 NASHVILLE (PRWEB) September 17, 2012
Captain D's successful turnaround and brand rejuvenation was highlighted with positive same-store sales increases for yet another quarter, marking 13 consecutive months of strong increases. The 527-unit restaurant leader in the fast casual seafood segment produced a record third quarter 10.8 percent total same-store sales increase, with a 12.5 percent increase in company restaurants and a 9 percent increase in franchised restaurants.
"Our positive turnaround and growing success is attributable to our entire organization of talented people and to their ongoing commitment to creatively fulfill Captain D's corporate value of providing our guests with an excellent dining experience every day. Our commitment to our guests – in everything we do - has elevated our guest experience and our brand alike," said Phil Greifeld, CEO and President of Captain D's.
Captain D's continues to build upon its success that began in 2011, when the seafood chain produced its first system-wide same-store sales increase in eight years. Under new leadership , the brand has been systematically rejuvenated with upgraded field and corporate talent, investments in new and core menu items, investments in new restaurant equipment, a re-engineered operating line and the development of fresh new facility décor and designs.
These changes and upgrades have been accentuated by exciting marketing initiatives that have worked to increase brand awareness and incremental traffic. Since joining Captain D's in November of last year, CMO Jonathan Muhtar and his team have worked to implement a guest-centric strategy that focuses on the pillars of the D's promise: seafood expertise, full meals, hospitality and great value. The brand's new direction has led to new engaging media creative that, coupled with deliberate menu innovation and evolution, has delivered significant sales and traffic increases for Captain D's.
In addition to its sales success, Captain D's has recently begun new restaurant development through franchising. The brand is focused on extending its footprint in strong existing markets, as well as expanding its reach into new territories. Because of the brand's consistent sales success, Captain D's is experiencing a heightened interest from multi-unit/multi-brand owners looking to diversify their existing restaurant portfolio.
"We have a uniquely positioned brand with solid unit economics and considerable upside potential. Captain D's success has put us on the radar with experienced and highly qualified restaurant operators who are interested in joining a brand that is developing," Greifeld said.
ABOUT CAPTAIN D'S
Headquartered in Nashville, Tennessee, Captain D's owns, operates and franchises 527 restaurants in 25 states, plus military bases around the world. Captain D's offers its customers great seafood at reasonable prices in a relaxed environment. Captain D's restaurants serve a widely varied seafood menu that includes freshly prepared entrees, and the company's signature hand-battered fish which is prepared to order to ensure freshness. The restaurants also offer premium-quality grilled fish, as well as shrimp, chicken, shrimp & beef kabobs, hushpuppies, desserts and freshly brewed, southern style sweet tea, a Captain D's favorite. Please visit http://www.captainds.com.
###