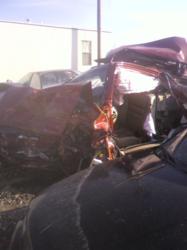 It won't bring him back, but we can keep it from happening again.
Atlanta, GA (PRWEB) June 05, 2012
The death of University of Georgia college student Eddie Ko has been rectified by the Simon Law Firm, headed by Christopher Simon, a local car accident attorney. Atlanta citizens can also get peace of mind knowing that an irresponsible and dangerous local business has been shut down.
In 2010, Ko was killed in a drunk driving accident. Two drivers left a bar in Duluth, GA in separate vehicles. Unable to properly operate their vehicles after drinking to excess, they lost control and struck each other, and then crashed into 23 year-old Eddie Ko's vehicle. The accident took the lives of Ko and another passenger, which was reported by CBS Atlanta. The drivers, Soon Kwon and Gho H. Lee, faced criminal charges, including vehicular manslaughter. As a wrongful death attorney, Atlanta representative Mr. Simon was able to secure policy limits from the insurance companies in the case of JEAN CHOI, as Surviving Mother of EDDIE H. KO (Deceased) versus SOON M. KWON, IN J. KWON, GHO H. LEE, TONY KA, and AKO CORPORATION, in the state court of Gwinnett County, State of Georgia Civil Action File No. 11C-04348-1.
In support of the family of Ko and the community at large, Christopher Simon took action in the same claim (Civil Action File No. 11C-04348-1) against the bar (parent company AKO Corporation) that served the alcohol. In Georgia, Dramshop Act - Civil Code § 51-1-40(b) - holds the bar legally responsible for injuries and deaths when they serve a visibly drunk customer and they are aware that he or she is driving that evening. During the litigation, the firm deposed witnesses who were drinking with the drunk drivers that night and obtained cell phone photos showing how intoxicated they were. The bar was found guilty of serving six heavily intoxicated individuals up to 15 rounds of drinks and staying open past closing to continue serving. A half a million dollars was awarded to Ko's family in the wrongful death suit.
"Knowing that the bar will be uninsurable and likely go out of business as a result is a measure of justice for the loss of Eddie's life," says Mr. Simon. "It also helps to protect other innocent drivers in Atlanta. It won't bring him back, but we can keep it from happening again."
The public is often not aware of how much good trial lawyers do by shutting down dangerous businesses. Mr. Simon of the Simon Law Firm has been recognized as a leader in his field in Atlanta. He was selected by Super Lawyers Magazine as a Rising Star for 2009, 2010 and 2011 and as a Super Lawyer in 2012. He was also listed on the "Legal Elite" list by Georgia Trend magazine in 2010.
About The Simon Law Firm
If you were hurt by a drunk driver in Atlanta, you should inquire about legal representation from Christopher Simon. You can schedule an appointment at The Simon Law Firm, 3535 Piedmont Road Building 14, Suite 410, Atlanta, Georgia 30305. For an appointment call (404) 259-7635 or visit his site at http://www.christophersimon.com/ for more information.