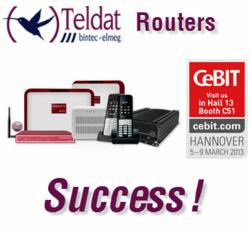 A prime objective for the organizers of CeBIT 2013, was "international business". This obviously coincides perfectly with what is one of Teldat's prime objectives, as Teldat has its offices, partners and clients on a worldwide scale.
Hannover, Germany (PRWEB) March 26, 2013
Teldat was present at CeBIT 2013. This trade show is one of the leading and largest digital business events throughout the globe. Teldat was one of the 4.000 companies that participated from 70 different countries, over the five days that the CeBIT lasted. A prime objective for the organizers of CeBIT 2013, was "international business". This obviously coincides perfectly with what is one of Teldat's prime objectives, as Teldat has its offices, partners and clients on a worldwide scale. There were over 285,000 visitors at CeBIT 2013 from over 120 nations, making this one of the strongest shows of the last years.
Teldat successfully presented itself and its new router product portfolio at CeBIT 2013 with the slogan "Connecting. The Cloud. Your World, Your Business". An even bigger stand than last year was set up over 168 square meters and Teldat saw an increase of business obtained via CeBIT this year, in comparison to other years, including an increase in international business. This all coincided with the general objective and figures of the CeBIT organization, mentioned at the beginning of this article.
Following the Teldat objectives, the different product brands were presented (bintec, elmeg and Teldat). Indeed, within the Teldat brand the new Atlas i60, Teldat's "cloud edge router", had a specific section of the stand dedicated to it. The Atlas i60 is a smart enterprise branch office modular access router and at the same time it is a server appliance for on-the-cloud applications. All of this in one piece of equipment, as well as the availability of an internal hard disk drive. Having a dual core CPU, Atlas i60 offers real time performance for both the routing and application server tasks. The latter being Linux based.
The Teldat industrial routers obviously played an important role at the CeBIT stand. The Teldat Regesta is a router that has now been installed in thousands of demanding industrial sites, such as Smart Grid power substations. The Regesta has been able to bring advanced IP to industrial sites for mission critical applications via various WAN connections (LTE / 4G and VDSL / ADSL2+). Having all these interfaces means that the Regesta has total failure / backup protection.
Transport routers were another key point at CeBIT for Teldat. Firstly the Teldat H1-Auto+ continued to be just as successful at CeBIT, as when over 2.000 were initially installed in the Madrid city buses. The H1-Auto+ is a robust router, which can be powered directly by a vehicle battery and can take high and low temperatures. Very important is the H1-Auto+'s possibility of offering WiFi .11n. This router also has failure and backup via dual LTE / 4G SIM.
A totally new transport router was presented; Teldat H1-Rail train router. A router to be installed on trains. It has specific train certifications and allows mobile broadband to be transmitted to / from the trains for both the train operator and the passengers.
Also the brand new, cutting edge Teldat compact corporate and enterprise routers were presented. Both the Teldat K WWAN LTE / 4G router and the Teldat V VDSL / ADSL2+ routers. They are based on the new fanless Teldat router structure with WiFi .11n and Gigabit ethernet. The Teldat K router, is ideal for mobile or sporadic set ups. Indeed one of the most important markets for the Teldat K are banking remote teller machines and other mission critical scenarios that require cellular interfaces such as lottery machines, mobile points of sale, etc. The Teldat V router is primarily a compact enterprise branch office router on VDSL / ADLS2+, permitting one point of connection for all equipment within the branch or office and even offering GSM calls via the optional WWAN module.
The new bintec w-Series of access points recently launched by Teldat, rightly had their place on the CeBIT stand. These access points have an elegant design for wall and ceiling installations. They have 2.4 GHz for normal device connection and also 5 GHz for high performance devices to connect and work smoothly. Moreover with up to, mimo 3x3 technology available on the bintec w-Series, it maximizes data transmission rates and enhances coverage.
Other companies participated within the Teldat CeBIT booth. Fibernet (a Teldat Group company) had a specific area dedicated to their DWDM products. Fibernet also centered its presence on the cloud. They presented their security solutions (encryption) for data travelling on fiber optic networks and linked to the increasing size of the cloud. Fibernet too, has used CeBIT as important base to increase the internationalization of their company.
A prime Teldat Partner (Addix), had an assigned counter on the Teldat stand. They presented the Addix live conference application and just as Teldat, they were very pleased with the outcome of the whole tradeshow.
Thursday was not only a day dedicated to international business, but an "international" party was held at the stand. The Teldat team relaxed with many partners and clients. Wine, beer and food was consumed from Spain and Germany, as they all celebrated what was clearly turning out to be a very successful CeBIT 2013 show.
About Teldat
Teldat Group is a leading globally operating European technology holding that manufactures and commercializes advanced Internetworking platforms for corporate environments. During Teldat's more than twenty five years of experience as a telecommunications provider, more than 250,000 devices have been installed in 800 networks for some of the most demanding carriers and multinational corporations, including markets such as banking and finance, utility providers, transport, retails and government institutions.
Teldat is present in more than 35 countries across the globe, with Teldat offices in countries such as USA, Germany, Mexico and China, among others and expanding.
For more information please visit http://www.teldat.com