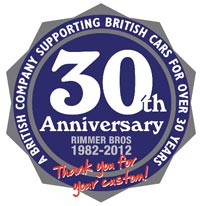 "[Rimmer Bros] was a natural extension to what we had been doing, for ourselves, at home, for years."
– Graham Rimmer, Co-Founder of Rimmer Bros
Bracebridge Heath, Lincolnshire (PRWEB UK) 19 March 2013
Starting from meager beginnings, the brothers' love of Triumph sports cars eventually led to their entry into the car parts business beginning with the dealings of Triumph cars, Triumph car parts and maintenance. When Bill and Graham settled on the Rimmer Bros name for their business they had no idea how successful it would become.
With the brothers ingenuity at work they changed industry practices by introducing the first parts price lists, revealing the inventory in stock so customers knew exactly what was at their disposal. Their business continued to grow, and the models of car parts they supplied also increased. In 1993, they branched out from Triumph and began carrying Rover car parts.
Rimmer Bros eventually became an authorised dealer in Land Rover car parts and needed all of their 75,000 square feet of storage at their new facility at Bracebridge Heath to incorporate their ever-expanding inventory. The constant growth put an enormous amount of stress on the brothers as they were perpetually running out of space. The rapid development of the business was only outmatched by the brothers' will to find a more permanent storage solution.
Rimmer Bros continues to expand their storage even to this day as they began construction in 2012 on a warehouse to double their inventory space at Bracebridge Heath. Business has continued to increase throughout the years, and rarely has slowed down long enough to take a deep breath. MG Car Parts and Jaguar car parts have been more recent additions to Rimmer Bros, but judging on the past thirty years it's a safe bet they won't be the last as the company continues to grow to meet the demands of their valued customers.
The brothers could not have imagined on what kind of journey their passion for cars would take them. A business that Bill and Graham started over 30 years ago now employs 60 people, and has become a go-to destination for expert advice and discontinued British car parts. For more information on the amazing story of the Rimmer Bros business, or to find car parts and car accessories quickly and easily please visit the Rimmer Bros website.
###
Located in Bracebridge Heath, Lincolnshire UK, Rimmer Bros is a prominent retailer of discontinued British car parts and accessories including brands such as Triumph, MG, Rover, Land Rover and Jaguar. Family owned and founded in 1982, Rimmer Bros strives to provide exceptional expertise and high levels of service, product quality and customer satisfaction. Fellow car enthusiasts with car part needs are encouraged to engage the knowledgeable staff at Rimmer or visit http://www.rimmerbros.co.uk.