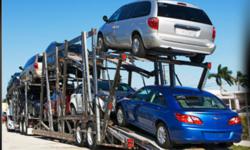 Help individuals and businesses ship their vehicles from A-B
(PRWEB) April 10, 2013
Car shipping could be a nightmare for many. Mike, who recently moved to Texas, tried to get a quote on car shipping. He was shocked when the company quoted an extremely high price. The quote made him question the wisdom of shipping his car and he was debating buying a pre-owned vehicle instead.
When Mike visited Movers.net, however, he was surprised to receive car shipping quotes from reputable companies at a price that was nearly half of what he had received earlier from other service providers. "It was almost too good to be true but thankfully the service lived up to all my expectations. I saved a bunch not just on the shipping, but also on the car I was planning to purchase should the arrangement not work out," says Mike.
Movers.net specializes in providing low-end car shipping quotes to help individuals and businesses ship their vehicles from A-B.
Movers.net works as an aggregation point for car shipping companies. Thousands of companies gather at one place and offer their services and quotes to customers like Mike. The system is designed to work seamlessly, so that when a customer like Mike requests a quote, he receives offers from multiple companies. A truly [miniature] capitalistic model, the service benefits by helping multiple companies fight for the same customer's business.
This morning, Movers.net unveiled its new unlimited car shipping fest where hundreds of companies will gear up their ammunition to offer their lowest prices in response to consumer quotes. The prices are expected to be lower than traditional bargains that are found on the site year-long. The company issues an official press release to support the fest:
"We have asked our network of car shipping companies to go all the way during this event. The duration of the event is of a much longer duration of time due to the reason that companies will be rotated every few weeks. The system is designed in such a manner that every customer will receive car shipping quotes from at least three companies. An average customer can expect to save anywhere from 20% to 50% off traditional prices."
"The event has been in the making for several months now. In addition to tapping into our existing rolodex of car shipping companies, we have developed relationships with hundreds of new companies to ensure every customer gets to work with the best. From national car shipping services to international conglomerates, we have assembled practically every category imaginable," says Randy Rodriguez who founded the company nearly fifteen years ago.
Considered a veteran in his industry, Rodriguez has developed a portfolio of companies to assist customers with all aspects of their moving needs. Movers.net focuses on car shipping and has helped tens of thousands of customers ship their vehicles across the world.