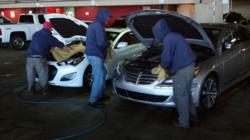 Clients with special shows call us because they know they can count on us to be there on time and do the job right,
(PRWEB) March 20, 2013
Depending on how far the cars travel and how dirty the roads are, the cars will either need a quick rinse & chamois or a full detail. Wash On Wheels is one of the few pressure washing companies in the country that can provide this full range of car washing services.
They have the flexibility to tailor their wash to whatever their client needs. And event organizers can't start their show late because the car wash company showed up without enough people and equipment to finish on time.
"Clients with special shows call us because they know they can count on us to be there on time and do the job right," said Joel Shorey, President of Wash On Wheels. "You have to show up with the right equipment and manpower or the job won't be finished in time to get all the cars ready for the show."
Since the Denver Auto Show is advertised as "the premier showcase of the newest model year import and domestic vehicles", it attracts an audience from many different sectors.
Professionals in the automotive industry come in to see what their competition is doing. And prospective buyers come to the show to see all the different models in one place. Factory representatives from each manufacturer are there to answer questions.
With 27 years experience in Denver, Wash On Wheels knows how to do special projects that have to done right and on time. They have the capacity to deal with special situations and the experience to know how to do them.
Wash On Wheels is Colorado's largest mobile pressure washing company. In business since 1985, they have an A+ rating with the Denver/Boulder BBB. The company's services include pressure washing commercial buildings, sidewalks, parking garages, restaurants, and graffiti removal. Their services also include car washing for auto dealers, fleet truck washing, boat cleaning and interior and exterior detailing. They specialize in emergency grease and oil spill cleanups and include water recovery at no additional charge. Wash On Wheels services the Denver metro area and Front Range Colorado. For more information, contact Joel Shorey at 303-937-7181 or visit http://www.washonwheels.net.