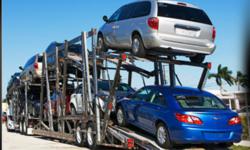 Don't waste your time searching – We are here for you!
Atlanta, GA (PRWEB) March 08, 2013
In an aggressive move to overhaul its infrastructure and drive down aggressive rate reductions, MovingTruckRental.com refocuses its strategy on core technology and relationships. Hundreds of car shipping companies joined hands to form one of the largest networks online.
Over three years in the works, MovingTruckRental.com released its latest technology platform that embraces cutting-edge price comparison tools and a powerful indigenous algorithm to streamline and expedite quote requests and deliver the most price-effective offers on the Web. Furthermore, the company has worked one-on-one with hundreds of car shipping companies nationwide to build a powerful network that focuses on one simple goal: price reduction.
The network leverages several innovative processes and tools to reduce marketing costs and pass on the savings to customers desirous of shipping their cars from A-B. "This is apparently a big trend online," says Amit who recently used MovingTruckRental.com to ship his car to California. "I was amazed at how swiftly the service works. As soon as I submitted my quote request, car shipping companies literally lined up with their offers. I have never felt so important in my life. Shipping my car coast-to-coast was so easy. I was on the verge of selling my car before I came across their site. Given the low cost of transportation, however, I decided to keep my red beauty. I am glad I did."
A spokesperson for MovingTruckRental.com released the following press statement this morning:
"Nearly every industry has a system for providing quotes. Car transport companies did not have a well-proliferated site where they could connect with customers and share shipping quotes. We strongly believe that our system addresses this gap and fulfills a void that has existed for a very long time. In addition to our in-house technology we have developed strong relationships with hundreds of car shippers.
This synergy of technology and relationships truly drives down overall shipping costs and benefits customers. Our shipping companies enjoy several benefits as well. In addition to lower marketing costs, they can tap into our large customer base and gain a larger market share for relatively little effort. This system is a win-win for everyone in the ecosystem."
MovingTruckRental.com is a site where customers can request quotes from car shipping companies. Within a matter of seconds, users can expect a response from the best companies in the business. The site has been in business for over fifteen years and during the course of this time has managed to save millions of dollars for customers wanting to ship their cars nationwide.
In addition to free quotes, the company promises a fanatical customer support team and one-on-one support throughout the process. In-built review tools and comparison mechanisms make the overall user experience seamless and highly productive.
For more information about this topic, Visit our car transport page at: http://www.movingtruckrental.com/auto-transport.html