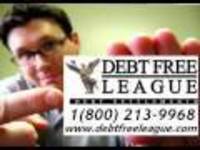 "The Credit Card Act reflects the infinite enslavement to credit card debt if you make the minimum payment. The good news is that Debt Free League can offer a wealth of debt settlement opportunities to people with collection and charge off accounts"
San Diego, CA (PRWEB) March 17, 2010
For America's credit card nation, a new credit card law may have brought more bad than good. This March, the Credit Card Accountability Responsibility and Disclosure Act (Credit Card Act) went in effect to shield consumers from abusive credit card billing practices. But a Debt Free League report warns the outcome produced abusive interest rates and fees.
A major victory of the Credit Card Act was warning consumers how long they will take to pay off the balance if making only minimum payments, and how much you would need to pay each month to pay off the balance in three years. Additionally, the act requires:

A one-year interest rate freeze on new accounts - after the first year, a rate increase can only apply to new
charges.

Cardholders to approve credit card transactions that place them over the credit limit.
Banks to charge one over-the-limit fee per billing cycle.
A co-signer or proof of income to satisfy the monthly payments for people under 21.
Excluding major losses from the recession and steep unemployment, the regulation is estimated to cost banks $10 billion a year in interest rate curbs alone.
But the a Debt Free League report, Effects of the Credit Card Accountability Responsibility and Disclosure Act warns that credit card companies countered the perceived losses of profits with new gimmicks on credit card interest rates and fees.
Eric Santacruz, Vice President of Debt Free League indicates, "A credit card company can still raise your interest rates on future card purchases. Plus, there's no cap on interest rates, and they can increase your variable annual percentage rate account as the prime rate rises."
People were also bashed with increased interest rates. As reported by Creditcards.com, the average interest rate on new credit card solicitations (which was 10.7 percent a year ago) increased from 12.7 percent six months ago to the present 14.62% rate.
Deepening consumer's worries, banks also introduced a variety of new fees, such as paper statement processing fees, inactivity fees on accounts that have not been charged on for six months, and reinstatement fees to reinstate accumulated rewards.
"The Credit Card Act reflects the infinite enslavement to credit card debt if you make the minimum payment. The good news is that Debt Free League can offer a wealth of debt settlement opportunities to people with collection and charge off accounts", utters Santacruz.
According to an Associated Press article, in 2009 banks charged off about $83.27 billion in credit card debt as uncollectable. Generally, Charge off debt portfolios are sold to very aggressive debt collectors. As a result, many debtors end up filing bankruptcy to shield themselves from the collection calls and legal threats.
In lieu of pursuing bankruptcy, Santacruz suggests that debtors should consider enrolling their collection accounts in a debt settlement program, which credit wise isn't as harsh.
Besides credit card accounts, Santacruz' debt settlement program accepts business debt and corporate credit card debts, which are not covered under the new federal regulation.
About Debt Free League:
Debt Free League offers a debt settlement program that helps consumers and small business owners resolve financial hardships by negotiating settlements on personal, medical, and business debts. Free phone consultations are available by calling (800) 213-9968.
###