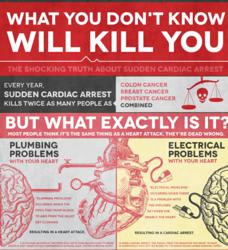 Nashville, TN (PRWEB) May 05, 2012
The general public has heard of cardiac arrest, but most do not know details about the disease. According the American Heart Association, 97% of cardiac arrest victims die before reaching the hospital. AED.com, a national leader in AED (automated external defibrillator) distribution, recognizes this and is aiming to create mass awareness about the importance of early defibrillation with onsite AEDs. Part of this ongoing campaign includes the creation of an infographic on cardiac arrest.
The infographic, titled "What You Don't Know Will Kill You – The Shocking Truth About Cardiac Arrest," is a compilation of cardiac arrest facts that are mostly unknown to the public. The reader will learn the difference between a heart attack and cardiac arrest, the timing necessary to save a victim of cardiac arrest, and how AEDs can save lives.
Director of Marketing, Justin Darby says, "With the rising prevalence of cardiac arrest, our goal is to spread awareness as much as we can. This condition takes more lives each year in American than breast cancer, prostate cancer, house fires, firearms, traffic accidents, and AIDs combined. The more people that know this, the more will hopefully take action to protect themselves and their loved ones."
AED.com's Infographic: http://www.aed.com/cardiac-arrest-infographic.html
To learn more, please visit: http://www.aed.com/