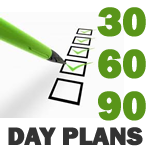 They prove you know how to be successful at the job, they help the hiring manager visualize that success...which makes a job offer more likely
DALLAS, Texas (PRWEB) March 08, 2013
Career Confidential Chief Executive Officer and Career Coach Peggy McKee explains in a video about the 30-60-90 Day Plan how to elevate your job interview from a Q/A dialog to a successful conversation that will make the interviewer love the job seeker, and McKee gives her personal iron clad 365-day guarantee that the plan works.
"There are just so many amazing things the 30-60-90-day plans do for you during the interview," McKee said. "They prove you know how to be successful at the job, they help the hiring manager visualize that success, and they put him or her on your 'team' which makes a job offer more likely."
The 30-60-90 Day Plan guarantees job seekers multiple job offers by completing the strategy. The system provides video coaching, three example plans, a step by step worksheet, a one hour personalized video on building and using the plan to get offers, and four different PowerPoint templates and instructional video to help customize them.
For more information, visit http://careerconfidential.com/answer-interview-questions/.
To view Career Confidential's other upcoming webinars, you can view a schedule of upcoming events here: http://careerconfidential.com/training-webinars/
Career Confidential is committed to getting the unemployed back to work in 2013. After assisting over 10,000 people get a job, Career Confidential has set a goal to get 10,000 more people their dream jobs in 2013. Career Confidential exploded in 2012 with a 94% growth rate over 2011 in a down economy.
Based in Texas, Career Confidential specializes in the techniques and tools needed for a job search to be successful. This product is a customized and proven system that gives job seekers the power they need to nail the job they want.
With the guidance of CEO Peggy McKee and CTO Carl Chapman, two nationally recognized experts in the field of job search training, Career Confidential was founded in 2009 so that the original product, The 30/60/90 Day Business Plan, could be distributed more widely among job seekers across the world. From that one product, they now offer over 30 products that teach techniques and tricks to help every job seeker to land that perfect job.