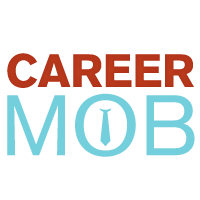 Our goal is to ensure that Americans that fight for us don't have to fight for a job when they come home
Washington, DC (PRWEB) March 06, 2013
Career Mob is a new online application seeking to revolutionize the way veterans find job opportunities after serving in the military. The app has been created to aid veterans in transitioning to civilian service.
The project was launched by 5 entrepreneurs on a hackathon competition known as "StartupBus," which puts 30 strangers on a bus to conceive and launch a startup within 72 hours on the way from New York City, NY to Austin, TX.
"Veterans face unique challenges when returning from duty and - unfortunately - one of those challenges is unemployment," said Josh Seefried, currently an Air Force officer and one of the cofounders spearheading CareerMob.
"Our goal is to ensure that Americans that fight for us don't have to fight for a job when they come home."
The unemployment rate for veterans is well over the general population unemployment rate. As the Afghanistan War winds down, more than 300,000 veterans will leave the military each of the next four years.
Recent surveys point to service members unable to translate military experience to civilian workplace opportunities.
CareerMob starts with a simple questionnaire about a veterans work experience and interests and aligns them with civilian job opportunities. Furthermore, a veteran is then offered a selection of mentors that can help them transition to the civilian workplace.
The process is simplified and seeks to ease the anxiety service members face when transitioning from the military workplace.
Doug Wilson, former assistant Secretary of Defense of Public Affairs stated, "Americans want to thank America's veterans in meaningful ways – but too often, we fail to turn our good intentions into meaningful actions. Helping our men and women in uniform returning from the battlefield to the workplace not just to find a job but to succeed in that job is one of the most tangible, productive answers to the question: How can I help?"
The application is currently in beta testing and veterans or interested mentors can sign up at
http://signup.careermob.com
CareerMob - Finding Veterans Work. Help vets translate military skills into civilian job opportunities and get matched with a mentor for guidance during the transition to civilian life. For more information on CareerMob follow on twitter at http://www.twitter.com/careermob
Contact:
press(at)careermob(dot)com
303-827-5173