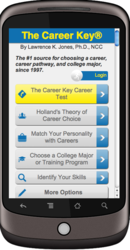 No other scientifically valid career test or related website is optimized for mobile, making Career Key a smartphone user's destination for high quality career guidance. Juliet Wehr Jones, Vice President, Career Key
Portland, OR (PRWEB) September 26, 2012
Career guidance leader Career Key, http://www.careerkey.org, now offers the first mobile friendly, scientifically valid career test. In 10-15 minutes, smartphone users match their strongest Holland personality types to careers using this accurate career test optimized for mobile viewing. Of the few valid career tests found online, Career Key is the only one easily taken by smartphone users.
The Career Key test links users' career matches to easy to read career information about salary, job outlook, and required education from the U.S. Department of Labor's 2012-2013 Occupational Outlook Handbook (OOH). In this year's update, the OOH was optimized for mobile viewing making it not just the best quality career information resource, but the only one usable for smartphone users.
With 98 million smartphone subscribers in the United States in 2012 and rising (comScore 2012), it is clear that mobile users are here to stay. Many users surf the Internet during their commute, while relaxing, or in between appointments.
In addition to reading the news and checking email, smartphone users can now get professional quality advice about how to choose a career using the respected Career Key career assessment and practical career advice articles. No other scientifically valid career test or related website is optimized for mobile, making Career Key a smartphone user's destination for high quality career guidance.
Mobile visitors are automatically directed to the mobile friendly site when visiting The Career Key's home page, careerkey.org. Instead of having to pinch and expand their screen, test takers can simply touch buttons and scroll to navigate the site.
In addition to the accurate measure of Holland's six personality types, Career Key is the only career test allowing users to create a Personal Job Option List for better career matches. Careers are saved on this list for 90 days and are linked to up to date career information (salary, job outlook, education and training) found in the 2012-13 Occupational Outlook Handbook.
People can further use their test results with Career Key website articles and eBooks, to explore matching college majors, green jobs, and career clusters and pathways.
About The Career Key®
Since 1997, Career Key has been the #1 Internet source for helping people choose careers and college majors. Advertising and registration-free, it offers a valid career test, information, and advice articles based on the best practices and science in the field.