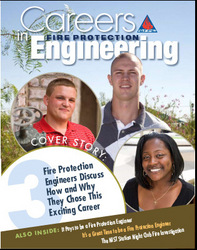 We've heard from recent graduates and universities alike, that students are graduating with multiple job offers, which is particularly notable in this economy
Bethesda, MD (PRWEB) October 16, 2008
At a time when many career choices seem imperiled by the current financial crisis, fire protection engineering remains a fast-growing occupation. Year after year, the demand for qualified fire protection engineers outpaces the supply. According to Bethesda, MD-based Society of Fire Protection Engineers (SFPE) , a beginning fire protection engineer, on average, earns $55,000 a year and the median annual salary of today's fire protection engineers exceeds $98,000 plus benefits--among the highest-paid engineers in the nation.
"We've heard from recent graduates and universities alike, that students are graduating with multiple job offers, which is particularly notable in this economy," says Chris Jelenewicz, Engineering Program Manager at SFPE. "At the same time, employers are telling us they are having difficulties recruiting enough qualified fire protection engineers to fill their workforce needs."
To help high school and college students with career choices, SFPE has created the third edition of their Guide to Careers in Fire Protection Engineering.
The free guide will especially appeal to students interested in science and who have a desire to make the world a safer place, but any student seeking to discover his or her passion will find the guide informative.
Guide to Careers in Fire Protection Engineering is also a great starting point for students who already want a career in engineering, but are unsure of which specialty is right for them. It provides students the opportunity to explore college degree programs, specific career paths and different ways to enter and succeed in the field.
A free copy of The Guide to Careers in Fire Protection Engineering can be obtained by contacting Chris Jelenewicz.
What is a Fire Protection Engineer?
According to the Society of Fire Protection Engineers, a fire protection engineer applies science and engineering principles to protect people, homes, workplaces, the economy and the environment from the devastating effects of fires. Fire protection engineers analyze how buildings are used, how fires start and grow, and how fires affect people and property. They use the latest technologies to design systems to control fires, alert people to danger, and provide means for escape. Fire protection engineers also work closely with other professionals, including engineers of other disciplines, architects, state and local building officials, and local fire departments to build fire safe communities. Fire protection engineers are in high demand. The number of available jobs far exceeds the supply.
About Society of Fire Protection Engineers
Organized in 1950, the Society of Fire Protection Engineers is the professional society for engineers involved in the field of fire protection engineering. The purposes of SFPE are to advance the science and practice of fire protection engineering, maintain a high ethical standing among its members and foster fire protection engineering education. SFPE's worldwide members include engineers in private practice, in industry and in local, regional and national government. Chapters are located in Canada, China, France, Italy, Hong Kong, Japan, Korea, Malaysia, New Zealand, Saudi Arabia, Singapore, Spain, Sweden and the United States.
More information about a career in fire protection engineering can be found at http://www.careersinfireprotectionengineering.com.
# # #