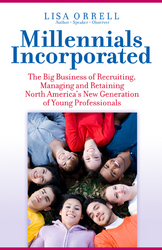 The Millennial Generation is the biggest and most unique generation our country has ever seen
Campbell, CA (PRWEB) November 14, 2007
The Millennial Generation (aka Generation Y) is now graduating from college en masse and entering the professional workforce. Competition to recruit them is fierce and companies across the country are spending millions to attract and retain them. Lisa Orrell in her new book, Millennials Incorporated, available now on Amazon, explains what this sea-change demographic shift means for Human Resource professionals, recruiters and corporate managers throughout the U.S.
Millennials in the workplace is such an important topic that it has been covered recently on 60 Minutes, the Wall Street Journal, and Business Week. "The Millennial Generation is the biggest and most unique generation our country has ever seen," explains Orrell, an award-winning businesswoman and marketing agency owner of M7 Inc. "And with a typical large company slated to lose 30-40% of their workers over the next 5-10 years due to (Boomer) retirement, the Millennial Professionals are in high demand to be groomed as our country's future managers, executives, and leaders."
In speaking to leading companies and influential business organizations including the Women in Leadership Conference this week, and appearing in leading HR publications including Human Resource Executive, Orrell's seminars about recruiting, managing and retaining Millennials are in high demand.
"To most Gen X and Boomer professionals, this new generation is a mystery. The Millennials have been kids and teens their whole lives so corporate wasn't paying much attention to them," says Orrell. "But the oldest ones are now in their mid-20s, graduating college, and entering work environments filled with Gen X and Boomer professionals. This is making for some very interesting inner office dynamics and substantial corporate culture shifts."
Aside from owning M7 Inc., Lisa Orrell is a professional speaker and author who coined the term "Chickonomics" a platform where she educates society and the business world about issues that impact women and generational issues in the work place. For more information about Orrell, Millennial Incorporated, visit http://MillennialsIncorporated.com or http://Chickonomics.com. E-mail Lisa at 1-888-254-LISA (5472).
###