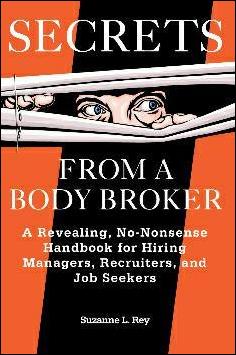 A one stop education and an absolute must for all those who hire employees or seek employment themselves. Good solid information, easy to understand and implement. I would recommend this book for all professionals who find themselves involved in either side of the hiring process
El Cajon, CA (PRWEB) October 26, 2006
Suzanne L. Rey, author and twenty year veteran of the executive recruiting business trains hiring managers, recruiters and job seekers to take a brand new approach to the process of hiring and getting hired.
In her new book "Secrets from a Body Broker - A Revealing, No-Nonsense Handbook for Hiring Managers, Recruiters and Job Seekers" she explains why the hiring process is so unpredictable and reveals 20 secrets that will help you understand more about human nature and the psychology behind what motivates our hiring decisions. By understanding these motivations, (which are often subconscious), you can make better, more solid hiring decisions, whether hiring or looking for a job. Visit: http://www.secretsfromabodybroker.com
San Diego, CA (PRWEB) October 24, 2006
There are solutions to these workplace issues. Some we have control over as individuals and some we don't. But, even the things we can't control can give us insight into establishing strategies that can help us make the right decisions when faced with a problem on the job. The key is to understand that there is no commodity more complicated and unpredictable than the human animal. So to be successful in any work environment you should understand some things about human behavior and how to communicate your desires and needs effectively.
1. Lack of communication - The number one complaint I hear about the workplace today is that there is a lack of communication. Communication between employee and boss, between departments, and senior management and management staff. Many people who have been fired often don't even know why.
There are a number of reasons communication is such a problem in the workplace. One reason is that every day thousands of employees receive promotions into management positions for the first time. The majority of these new managers have little or no experience managing and motivating employees, so it's no surprise they don't know how to effectively communicate to their staff what is expected of them. As a job seeker it's important to understand the fact that most managers have no formal training. In fact, many people who are promoted into management positions should never have been put in charge of managing others in the first place.
The Solution - As an employee, the key is to take responsibility for your own life and professional career and ask your boss what is expected of you. Don't wait for your boss to tell you. By then it might be too late. Ask for details about each of your job responsibilities, at what level they should be performed, and when your boss expects these tasks to be completed. Do this on a regular basis and you won't be surprised with a bad performance review or worse, with your walking papers.
2. Ineffective Hiring Practices - One of the largest percentages of an employer's overhead cost is employee salaries, but surprisingly, most employers don't pay much attention to it. Although the majority of employers feel they are keenly focused on profit margins and the bottom line, they generally base potential profits on things like production costs and sales volumes, which are more tangible. This focus is dangerously narrow. They do not think about how much it actually costs to hire, train and retain good employees, and how much bad hiring decisions can hurt productivity and profits over time.
In addition, most companies are not proactive in their recruiting practices. Instead, companies tend to be reactive, usually functioning in panic mode, trying to fill surprise openings. News Flash!! The days of the loyal twenty-year employee are gone! Most people will have at least 10 jobs in their lifetime.
Successful recruiting strategies can save a company thousands, even millions of dollars over time. Less turnover increases productivity and that translates into higher profits. Considering the lack of forward planning in effective management training and hiring strategies, it surprises me how so many companies, struggling under the chaos, continue to do nothing to improve. So chaotic hiring practices have become the norm, and apparently this haphazard approach isn't going to change any time soon.
Hiring managers are basically left to their own devices. Fortunately, even without the support of senior management, there are a number of things a hiring manager can do.
The Solution - First, get some support. Internally, you can seek advice from your human resources (HR) department. This department should have some systems in place for conducting a search for new talent. Outside support is also essential, in the forms of using external educational training and retaining a recruitment consultant, especially if a company is trying to attract senior level or hard-to-find individuals.
Secondly, sign up for a management training class. Many employers will pay for seminars and continuing education. Take the initiative and make an effort to learn how to better communicate with your staff and co-workers.
Thirdly, take the time to ask the kind of questions that will tell you who a job applicant is, not just if they can perform the job tasks. I call this the "Who Factor". It is the key to making good, solid hiring decisions. If you learn who someone is, you will be able to understand that person's interests, desires, needs, challenges and motivations. The Who Factor is everything. If you know who someone is, you will have the tools to be a more effective communicator and a better manager and co-worker.
3.Unethical Business Practices - This is more common in the workplace than you might think. Unethical behavior is why there is no loyalty in the workplace anymore. One problem is that few companies truly keep their promises to their employees, yet foolishly they expect their employees to remain loyal. Many employees have become cynical about management in general, largely because of companies' broken promises concerning raises, promotions, bonuses, incentives, enhanced benefits, and other work related matters.
Failure to handle employees issues sensitively can result in serious consequences that range from creation of a disruptive environment and lack of productivity to lawsuits and, in some cases, workplace violence.
It annoys the hell out of me when I hear Donald Trump say, It's not personal, it's just business. Well, Donald, I have news for you. It is personal! The truth is..... it's always personal, and it should be. Those people who think it's OK to separate the way they behave at work from the way they behave at home are living a very big lie. A man is a hypocrite if he prides himself on being a good husband and family man, but treats his employees with less than the same level of respect.
The Solution - These days, loyalty is not the rule, it's the exception. Yet most employers expect loyalty from their employees. But loyalty is not a quality to be expected; loyalty must be earned. The employer, the one doing the hiring, must earn the respect and loyalty of employees if the company wants loyalty returned. You must work actively to earn trust everyday.
Today's 'ethical leaders' always put their organizations' and employees' best interest first. Never expect something from your employees that you are not willing to do yourself.
The stability and profitability of any organization has a direct correlation to the way employees feel about their jobs. If you hire a candidate who is excited and ready to go to work, and if you treat that person as you would a friend, someone whom you really care about, you will see a resurgence of loyalty in your workforce.
They say it's money that makes the world go round
but it's people who make the money.
Endorsements:
"As the Division President for a major homebuilder that had his division close unexpectedly, it was a real shock to be back interviewing. Reading Secrets from a Body Broker was perfect timing for me. I cannot express how much the advice, and insight has helped me master my interviewing techniques, as a hiring manager and a job seeker. The book was a true reality check and changed my whole approach to interviewing. I utilized Suzanne's suggestions on my very next interviews. I now have multiple offers and I owe it all to her".
Gary Chronister
President
New Homes Development
"Great information! A quick read, solid, frank and to the point. This is a great tool for any manager and also very useful information for anyone seeking new employment".
Dan Armstrong
Director of Purchasing
DR Horton
"No matter whether you are hiring or looking to get hired, Suzanne shares the kind of insight we all need to get it right!"
Michael Gerald
Land Development Manager
Centex Homes
"A one stop education and an absolute must for all those who hire employees or seek employment themselves. Good solid information, easy to understand and implement. I would recommend this book for all professionals who find themselves involved in either side of the hiring process".
Gary C. Williams
VP Project Management
SunCal Companies
Coachella Valley Division
Contact:
Producers and Media...Call Suzanne Today at 619-303-2239 to schedule an interview.
Availability - California, Nation-wide by arrangement and via telephone. Available as a last minute guest. Visit: http://www.secretsfromabodybroker.com
###