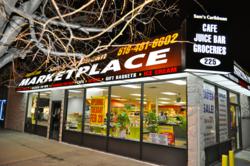 Perhaps the most striking feature is its "Café on the Island," where the jerk wings and the fresh-baked Jamaican-style beef patties wait in abundance to jump-start your taste buds and make eating a pleasurable experience.
West Hempstead, NY (PRWEB) May 13, 2012
Nearly three months after moving from its Hempstead, NY home, Caribbean food retailer Sam's Caribbean Marketplace will officially reopen its doors on Saturday May 19, 2012, in a newly-refurbished, state-of-the-art facility at 225 Hempstead Turnpike in the quiet Long Island hamlet of West Hempstead, NY. The festivities kickoff at 11:00 a.m. and end at 6:00 p.m.
"It was time for us to make that major leap of faith," said founder and CEO, Andrew Morris. "While our former location served us well for many years, the room for growth and development were limited and extremely challenging as we had long outgrown the 1600 square-foot facility that we were leasing. Through our retail location and our website, http://www.sams247.com, we have served close to two million customers throughout the United States, Canada, the UK, and in about sixty other countries," Morris said.
Known to many customers as "Mr. Sam," Mr. Morris credits the company's success primarily to its dedicated, highly-motivated and hardworking employees, and to the unwavering support of its loyal customers. Consumers craving traditional Caribbean food products and a friendly, family-type atmosphere will travel from as far east as Bay Shore, Long Island and from as far west as New Jersey to shop at Sam's.
Designed to significantly improve customer experience, the new facility is light years ahead of the previous location. The elaborate 4,000 square-foot marketplace continues to boast Sam's signature array of colorfully packaged Caribbean food and health products, primarily from Jamaica, Barbados, Trinidad and Tobago, Guyana, Grenada, Dominica, and St. Lucia.
Perhaps the most striking feature of the new location is its "Café on the Island," where the jerk wings and the fresh-baked Jamaican-style beef patties wait in abundance to jump-start your taste buds and make eating a pleasurable experience. Best of all, a Jerk Chicken lunch, including generous portions of rice and beans and vegetables, starts at only $4.99.
Other notable features found in the new facility are an ice cream parlor and juice bar, a dining area with a view, 200 square-feet of commercial freezing and cooling equipment, a showcase packed with cricket gear, and, to any driver's delight, 8,000 square feet of free parking. Additionally, there is a new "Pack and Ship" department which serves the company's far-flung online customers who order through http://www.sams247.com, as well as its in-store customers who can now purchase Caribbean groceries and have them packed and shipped to loved ones worldwide.
"The Sam's expansion project clearly is a major undertaking, and it would not have been possible without strong financial backing," said Morris, the Caribbean-born entrepreneur. "Thanks to the National Development Council's Grow America and Grow Nassau Funds, two loans were provided to turn a far-fetched dream into this reality."
The Sam's grand opening event will include over a dozen vendor exhibitions, food samplings and taste testing, lots of prizes and surprises, discounts, and numerous outdoor activities. Digicel, Lime, JN Money Transfer, VP Records, Grace Foods, Golden Krust Bakery, Royal Caribbean Bakery, Tropic Isle Living, Ice Cream Factory, HTB, Oscar's Seasonings, Bermudez and Ginseng Up are a few of the brands participating in the day's events. Irie Jam Media will provide a live radio broadcast and online audio streaming.
The West Hempstead Chamber of Commerce-sponsored official ribbon cutting ceremony will begin at 1:30 pm, and will follow the grand opening of two other businesses: Hats Off Restaurant and Bar at 205 Hempstead Turnpike, and KW Kitchens at 207 Hempstead Turnpike.
Company Information: Sam's Caribbean Marketplace was established in December 1993. The company offers a wide variety of Caribbean foods from ackees to yams, Caribbean cookbooks, and an extensive collection of reggae, calypso, and Caribbean gospel CDs. The company also stocks Caribbean flags and novelties as well as health and beauty products, such as Jamaican Black Castor Oil (JBCO), ointments and traditional herbal remedies.