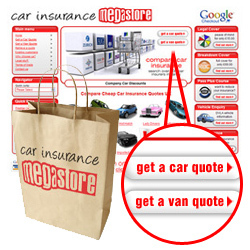 (PRWEB) March 11, 2008
On March 1st, 2008 the new car insurance quotes comparison website The Car Insurance Megastore was launched, offering its customers the ability to search a massive range of UK car insurers and schemes. With the completion of one form, it is now possible to search over 317 insurance schemes/providers and obtain the cheapest quote displaying simple and informative results. Even allowing the full viewing of the policy before you buy for total peace of mind.
With the launch of the latest heavyweight contender in the car insurance quotes industry, The Car Insurance Megastore leads the way. Searching over 317 car insurers and schemes, The Car Insurance Megastore hits hard against all Compare.com websites.
There are a huge amount of car insurance comparison websites advertised, such as Compare.com along with a myriad of deals available from the larger retail supermarkets. Yes you want to save time and money, but if you target your requests for quotes properly, you could save hundreds in less than an hour online.
Many car insurance companies claim to offer policies for all types of drivers. Simply asking just any random insurance company for a quote, isn't going to save you money. If you are a new driver, a learner, convicted driver, lady driver, or a motorist with little driving history, you need to get a specialist quote.
This is where car insurance comparison websites step in, enabling you, the customer to compare all these specialist providers by filling out just one form. All the quotes returned will then be organised, with lowest price first. You can then plough through the results simply selecting the right cover for you!
There are a number of price crunching web sites online. To provide you with a rate, they will ask you some basic information about yourself, what level of cover you need, and then request quotes from various different car insurance companies in a single search.
With car insurance premiums climbing higher each year, particularly for learner drivers, students and young drivers, make the insurers work for your business.
If you are in a statistically higher risk driver group, for motor insurance, the more money you will save if you shop around. By using a comparison website, you only have to enter your details once but get a vast number of quotes to select from, saving time and money in your search for car insurance cover.
Where to Look?
With a plethora of car insurance comparison sites to choose from, where do you start? Why not check out the UK's fastest growing car insurance comparison website - Car Insurance Megastore with over 317 insurers and schemes to choose from. With some of the lowest prices on the internet. The only Compare.com Website you will ever need to browse for car insurance.
###