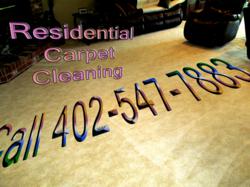 Lowering our residential carpet cleaning prices will attract more customers
Omaha, NE (PRWEB) March 31, 2013
Omaha Janitorial Carpet Cleaning Services is still in the beginning stage of developing their online marketing campaign yet have made a huge impression. Mainly targeting the Omaha, NE metro area with quality and affordable cleaning services they will expand on their marketing area and acquire more clients. Omaha Janitorial Carpet Cleaning Services is known for being reasonable on pricing and providing superior quality of service that retains customer satisfaction.
With specific aims of becoming the most affordable carpet cleaning and janitorial service in Omaha, NE Omaha Janitorial Carpet Cleaning Services is reestablishing their prices. They offer a variety of cleaning services to residential and commercial clients such as:
Residential Carpet Cleaning
Commercial Carpet Cleaning
Building Maintenance
Steam Cleaning and Mopping
Janitorial Services
Carpet Care
Property Clean-ups
Window Cleaning
Tile and Grout Cleaning
Mobile Auto Detailing
All estimations for any of their cleaning services are very affordable offering customers tremendous savings. Omaha Janitorial Carpet Cleaning Services will promote bundling services to their customers in orders to give customers more cleaning out of the money they spend.
"if the customer is willing to contract us for one services we will always offer another at a discounted price. For Example: If the customer were to schedule a residential carpet cleaning with us, we see this as an opportunity to also let them know we can do an auto detail at their home while we clean their carpet." Says company representative Hopeton E. Hewett. He goes on to say "Lowering our residential carpet cleaning prices will to attract more customers but at the same time give us an opportunity to offer and give others services in a bundled cleaning package".
So for the month of April Omaha Janitorial Carpet Cleaning Services is offering to clean 1000 square feet of carpet for just $169. The customer can include and auto detail with the carpet cleaning for $225. Giving clients professional cleaning service results that are quality with pricing that is affordable.
About Omaha Janitorial Carpet Cleaning Services:
Omaha Janitorial Carpet Cleaning Service is an internet based cleaning service operating out of Omaha, NE. Known as the most creative and dynamic cleaning company in the area providing customers with cleaning services that include carpet cleaning, office cleaning, auto detailing, upholstery cleaning, and janitorial services at reasonably and affordable rates.
Contact: Hopeton E. Hewett
Website:http://www.janitorial-carpet-cleaning.com
Phone: 402-547-7883
Address: P. O. Box 31613
Omaha, NE
68131