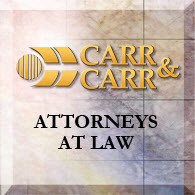 If you are injured, you need to protect your rights and your family's financial future.
Springdale, Arkansas (PRWEB) October 15, 2011
Carr & Carr Attorneys has opened a law office in Northwest Arkansas at 2002 S. 48th St. in Springdale. The personal injury law firm helps people who have been treated unfairly or hurt due to someone else's carelessness.
"Our lawyers work with families who have suffered -- from devastating injuries including catastrophic brain and spinal injuries, and from seemingly minor injuries due to vehicle accidents," said Patrick E. Carr. "Injuries happen every day. They can be caused by car wrecks, elder abuse in nursing homes, defective products. But when an injury occurs, people should take action to protect their rights."
With 11 attorneys and a support staff of nearly 40 employees, Carr & Carr also has offices in Tulsa and Oklahoma City. The law firm works with cases involving car wrecks, nursing home negligence, insurance bad faith, product recalls and wrongful death. Carr & Carr Attorneys have represented clients in Arkansas for several years.
###