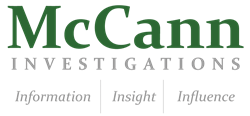 It would make sense that IT security personnel should be licensed as well. But it hasn't happened yet.
Houston, TX (PRWEB) February 04, 2013
McCann Investigations, a Texas-based private investigations firm, released a new Case Study titled Hiring a Licensed IT Security Professional. The case study discusses the issues that can arise due to the fact that although IT security professionals have access to a company's private and sensitive information, there is no regulatory body that has oversight of these professionals, and there are no licensing requirements. Smaller companies that outsource their IT support services may be at risk if their support services company subcontracts work and does not perform complete background investigations. They often have certifications, but are not required by law to undergo any extensive background checks other than that of their employer, if their employer requires it. These individuals then have access to company and customer information which can be stolen and used illegally. A data breach can not only cause financial loss to a company but can cause irreparable loss to the company's reputation and consumer confidence.
"There are licensing requirements in order to become a computer forensics examiner," says Daniel Weiss, Managing Partner at McCann Investigations. "There are also licensing requirements to install or sell physical security such as cameras and access control systems. It would make sense that IT security personnel should be licensed as well. But it hasn't happened yet." continued Weiss.
About McCann Investigations:
http://www.mccanninvestigations.com
Facebook: https://www.facebook.com/McCannInvestigations
Twitter: @mccanngi
Call us toll-free at 800-713-7670
McCann Investigations is a full service private investigations firm that specializes in computer forensics (including mobile device forensics), digital debugging, network breach detection and remediation as well as traditional private investigations such as under cover work, surveillance and comprehensive background investigations.
McCann Investigations works with law firms, public and private companies, financial companies and individuals with cases such as divorce, child custody, fraud, embezzlement, digital debugging, intellectual property theft and network breach.