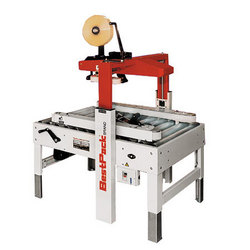 Rancho Cucamonga, CA (Vocus) July 29, 2010
This summer, BestPack, a case sealer and packaging solutions manufacturer and retailer, is introducing the MSD Simple Pack/Seal System. BestPack calls this new system a cost-saving "Problem Solver" for a wide variety of carton sealing applications. The MSD Simple System comes with BestPack's workhorse and top selling MSD model top/bottom carton sealer, an infeed and exit conveyor system, casters on all legs of the system, and unique L-bracket carton stopper and carton holder. Customers can purchase the entire system for the promotional price of $4,700, which is $700 off the retail price.
BestPack's top selling, heavy-duty MSD model top/bottom carton sealer is the company's most popular operator-fed and adjusted carton sealing machine. Designed for light-to-heavy uniform carton closure applications, all systems have BestPack's exclusive pop-out, pressure sensitive, high speed tape heads with patented tab adjustment. Also, the machine's dual telescopic masts allow for 4 inches of extra carton height extension on the upper assembly. Furthermore, the MSD is capable of interchanging 2 inch or 3 inch tape heads.
While the company's flagship products are case sealers, BestPack has earned notable national success for its complete line of carton sealing tape. BestPack's BP tapes have broad temperature range and maintain a consistent film quality. BestPack's hot melt and acrylic carton sealing tapes are ideal for pharmaceutical and medical industries because they have high temperature flexibility and are manufactured in an ISO 9001 and 14001 facilities.
BestPack is a world leader in sophisticated packaging systems. To receive more details on the BestPack MSD Simple Pack/Seal System or BP tapes, call 909-987-4258 or email sales(at)bestpack(dot)com. Also, sign up now for the company's newsletter or visit BestPack's official blog for packaging tips and updates.
AboutBestPack.com
Based in Rancho Cucamonga, CA, BestPack is the industry leader in packaging equipment machinery, case sealers, carton erectors and packaging tape. Also providing customized packaging solutions, BestPack is one of the most reliable and dependable manufacturers of all product packaging systems. This press release is produced by Cybertegic.com- an Internet marketing services agency that specializes in search engine optimized press release marketing (SEO marketing).
###