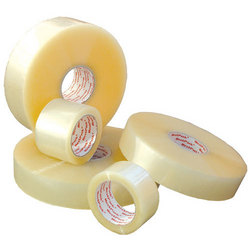 Rancho Cucamonga, CA (Vocus) October 1, 2010
As part of its commitment to providing reliable and cost effective packaging equipment systems, case sealer authority BestPack.com brings customers premium BL16 carton sealing tapes. The BL16 carton sealing tape is only 1.6 mil thick, but offers the same performance of a 1.0 mil roll. Additionally, the BL16 carton sealing tape is available for a price similar to that of a 1.6 mil tape, except it offers greater value and is considered to be one of the highest performing tapes in BestPack's line of quality carton sealing tapes. BestPack's BL16 carton sealing tape also implements a new 22 micron cast film with 28 micron adhesive, pitting it against the same quality of thicker tapes. Paired with the right case sealer, BL16 carton sealing tapes are bound to increase productivity and efficiency with a lower production cost.
Known for its high quality carton sealing tapes, BestPack has recently earned national success for its specially formulated carton sealing tapes. Both the hot melt and water-based acrylic carton sealing tapes boast a broad temperature range while maintaining consistent film quality. Carton sealing tapes from BestPack are manufactured in an ISO 9001 and 14001 facility, and are ideal for the pharmaceutical and medical industries due to their ability to handle high temperatures. These factors greatly contribute to BestPack's performance and manufacturing success.
For any company to optimize its operational efficiency and reduce production costs, automatic packaging equipment is needed. BestPack.com provides globally competitive packaging equipment such as case sealers and carton sealing tapes to assure the productivity of its clients. With over 35 years of experience in automated and semi-automated packaging systems, BestPack boasts an in-depth portfolio of packaging equipment. Sign up with the company's newsletter or visit BestPack's official blog for the latest updates on case sealers, carton sealing tapes, and efficient packaging systems.
AboutBestPack.com
Based in Rancho Cucamonga, CA, BestPack is the industry leader in packaging equipment machinery, case sealers, carton erectors and packaging tape. BestPack provides customized packaging solutions, and is one of the most reliable and dependable manufacturers of product packaging systems. This press release is produced by Cybertegic.com - an Internet marketing services agency that specializes in search engine optimized press release marketing (SEO marketing).
# # #