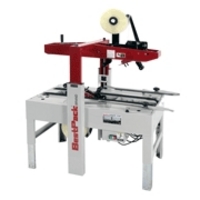 Rancho Cucamonga, CA (Vocus) October 20, 2010
BestPack.com, a leading expert in effective packaging solutions and case sealers, is offering an affordable solution that clients will definitely appreciate. BestPack's MBD case sealers are now available for a low price of $2,699.00, giving customers a chance to save up to $879 off its retail price. The MBD series is BestPack's most economic model, and provides unparalleled reliable and efficient results.
Featuring two bottom belts, the BestPack MBD case sealer can be adjusted on either side of the machine and includes a box top compression unit, as well as a guide rail centering mechanism. The MBD case sealer is adjustable and designed to cater to light to heavy duty, uniform carton closure packaging applications. With a bottom drive and electric 110V UL approved motor operating bottom belts, the MBD case sealer is also engineered with four adjustable legs for easy height adjustment. Clients can choose between a standard finish and stainless steel MBD case sealer.
BestPack is a global leader in efficient packaging equipment for nearly 40 years. With over 90 models of case sealers, BestPack continues to provide the packaging industry only top-of-the-line packaging equipment and solutions. Aside from case sealers, BestPack also offers other packaging equipment, such as carton sealing tapes, conveyers, sorters, case erectors, and palletizers. Visit the company's official blog or sign up with BestPack's newsletter for the latest packaging industry news.
AboutBestPack.com
Based in Rancho Cucamonga, CA, BestPack is the industry leader in packaging equipment machinery, case sealers, carton erectors and packaging tape. Also providing customized packaging solutions, BestPack is one of the most reliable and dependable manufacturers of all product packaging systems. This press release is produced by Cybertegic.com - an Internet marketing services agency that specializes in search engine optimized press release marketing (SEO marketing).
###