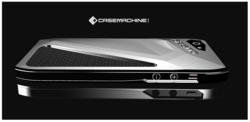 Smartphone cases are an extension of your personality as is fashion. Full body protection for your mobile device does not have to be bulky.
Herndon, VA (PRWEB) January 17, 2013
Most case manufacturers, especially the big players, private label cases pre designed and manufactured in China. Some actually go to the extent of modifying an existing design with their own logos and sell to mass distribution as their own brand. Another common practice is the water printing or UV printing of various and personal designs on the same standard plastic blank cases. These are very popular in the in the smartphone case industry. As leaders in innovation and trends, Casemachine, LLC, and its chief Industrial Designer and Mechanical Engineer, N.Shankar designs and engineers each and every case from ground up. Shankar's designs are influenced by automotive and aircraft influence as one can clearly see at first glance. "Its about shaping plastics and metal with out of the box thinking. Smartphone protection does not have to be flat or mundane. Full body protection for your mobile device doesn't have to be bulky. Smartphone cases are also part of your daily fashion and an extension of you, much like a swiss watch or italian shoes," Shankar says. Using high grade polymers, aircraft grade aluminum, and race car quality carbon fiber are some of the advantages of their hybrid designs. Casemachine's hybrid blend of exotic materials and well engineered placements makes every case signal, siri, GPS, bluetooth and data friendly.
For the first time, Casemachine has introduced smartphone cases outside the Apple arena. Debuting at CES 2013, they have launched their Samsung Galaxy S3, Note 2 line as well as the all new Blackberry B10 Carbon case. While Blackberry's 10 smartphone will not launch until Jan 31st, it is clearly evident, Casemachine is ahead of the curve. They also launched their new interchangeable Forza Case, Sesto Case, and i5 Slimline case for the iPhone 5. The Italian influenced brand names reflect their attention to detail, fit, finish and passion as seen in most italian products. However there is nothing italian about this case other than the names. They are proudly made right here in the USA.
Casemachine's newest line of beautiful smartphone cases will be released to the public mid February and should hit distribution sometime this Spring. From what was discovered about pricing, its is shocking to hear this quality and design smartphone cases will be sold between 39.99 to 59.99.
For more information or to buy Casemachine products, they can be reached at info(at)casemachine.com or online at http://www.casemachine.com.