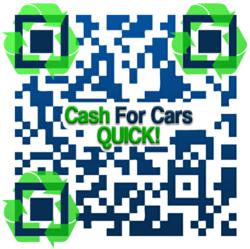 Get top dollar for cars or trucks from Cash for Cars Quick! Seattle's best auto buyer!
Seattle, Washington (PRWEB) March 19, 2013
America's top-rated junk car disposal company, Cash for Cars Quick with operations in Seattle Washington has recently created a new YouTube channel to educate its customers on the procedure of selling an old car quickly and without much effort. The intention is to make the process of junk car disposal easy for the owner so that they can also earn some extra cash by doing so. According to a statement released by the company's executives, the new instructional video has been added to their YouTube channel because of the growing demand of the cash for cars Seattle Washington business. When it comes to automotive waste management, people living in any community join hands in ridding their environment of the hazardous materials from waste products. In recent years, a great number of abandoned vehicles appeared in the city of Seattle. These cars are considered quite dangerous because the metal content is not only toxic but also sometimes fatal to human beings as well as wildlife. To try to prevent from the potential hazards of this type of waste, a lot of companies started working to use these junk cars in the process of recycling. However, this effort alone did not make the car owners to stop from leaving some vehicles to sit and rot. Cash for Cars Quick is an old car and truck buying company that actually took is a step further, and brought car owners and auto recycling companies together. Now the owners have a chance to sell their old and unusable cars to recycling companies that are always ready to give a good price for any car at all, whether it is in good shape or not. Because of these efforts, and totally reliable services offered to its customers, Cash for Cars Quick in Seattle has received tremendous support and admiration. To view the latest video on how to sell a car in Seattle visit, https://www.youtube.com/watch?v=8xERgAKufcA
The company has launched a new YouTube channel to promote its services through the online media. Just like their Facebook fan page, the video channel has also been accepted with open arms by its viewers located throughout the United States. Other similar companies in Seattle might be providing good services to their customers, but surely they are not as active as Cash for Cars Quick when it comes to promotion or marketing of their services. That is why the residents of Seattle like to turn to Cash for Cars Quick whenever they have to sell their old and unusable car or truck. The video is unique because it has been compiled by using simple and unambiguous language. Even a layman with no prior experience of auto waste management or junk car disposal can benefit from this video. In addition to a step-by-step procedure on how to sell your old car, the video also explains the unlimited advantages of recycling automobile parts to save our environment from the potential hazards of unprocessed auto waste. As such, the video has rightfully served the purpose of promoting the company's services and has managed to attract a lot of new clients currently residing in Seattle WA.
Cash for Cars Quick, as it is clear from its name, is a company that provides an opportunity to the owners of junk cars to sell their vehicles quickly, and get a good amount of money in return. The company has its dedicated offices in various cities of the United States including Seattle in order to provide customized services to its customers according to their demands. It has an excellent customer services department with staff always ready to respond to any queries their customers might have regarding junk car disposal. Cash for Cars Quick uses professional SEO services supplied by http://www.knackmedia.com, to help with the cash for cars service promote the message about the importance of utilizing a reputable cash for cars Seattle Washington Company if a vehicle owner is considering selling their car or truck. Cash for Cars Quick continues its online presence by offering an instant quote over the phone, and regularly posts auto recycling information on the company blog and social media pages. By utilizing a SEO company along with instant pricing the company hopes to attract more Seattle Washington residents looking to sell their vehicle. To read more on the company's cash for cars Seattle Facebook page visit, http://www.facebook.com/CashForCarsSeattle
About the Company: Cashforcarsquick.com is a growing fast cash for junk cars service that offers junk car recycling and that provides a high return to the car and truck owners in Seattle and throughout the United States. The company and its partners follow environmentally friendly disposal practices to safeguard the future of the planet. To learn more about the fast cash for cars Seattle WA service visit the company website or call the corporate office.
Contact:
William Leonard
Phone: 888-862-3001
Email: info(at)cashforcarsquick(dot)com