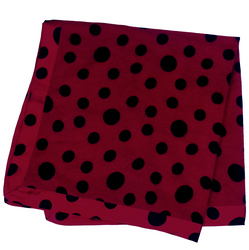 We're never too young to experience the finer things in life.
Houston, TX (PRWEB) January 14, 2011
The search for the perfect Valentine's Day gift for your favorite baby is over. The Pashmina Store, one of the largest online retailers of 100% pure, Grade A cashmere at value prices, today announced a new Ladybug print cashmere baby blanket just in time for Valentine's Day. Now your little love bug can be swaddled in warmth with the softest cashmere available, and be as cute as a cupid in a handcrafted, rich red Ladybug print blanket. Additionally, shoppers can enjoy 10% off on orders over $40.00, including all baby blankets and everything else in the store for their sweethearts through February 14th by entering the code "LoveBug" during checkout.
"We're never too young to experience the finer things in life," said Blair Rhodes, co-owner of The Pashmina Store. "Not only are our blankets luxuriously soft and warm, but our printed blankets are a fun way to express the unique personality and style of your babies. With their popularity, we expect to continue our expansion of designer cashmere baby blankets in the near future."
There is nothing as smooth as cashmere for babies, and The Pashmina Store is making it a bit cuter with exclusive Ladybug cashmere baby blankets made with 100% top-quality cashmere. The Pashmina Store's baby blankets are handcrafted by experienced artisans in Nepal to ensure each baby gets only the best. The Ladybug print baby blanket is 36" x 36" and comes with a silky satin border for the perfect finish. The Pashmina Store offers 20 blankets in a variety of colors and animal prints, which are priced between $65.99-$79.99.
About The Pashmina Store
On the Web since 2001, The Pashmina Store has been proud to offer the finest quality pure cashmere pashmina and pashmina/silk blend blankets, shawls, wraps, scarves and cashmere blankets. Customers enjoy the entire experience with quality products at exceptional values, free standard shipping in the U.S from Texas, and a satisfaction guarantee.
###