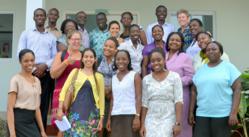 We are excited Ms. Turner is coming back to monitor the progress we have made in Singapore math. I am also especially happy she will be conducting a workshop for our parents, who have seen remarkable growth in their children's math skills.
Fort Collins, Colorado (PRWEB) March 26, 2013
Acclaimed Singapore Math® Trainer Cassandra Turner will return to Ghana's Association International School (AIS) to conduct additional training at the school in April 2013. Turner will meet with teachers in grade level groups to spend time discussing the challenges and successes they have had thus fair with their teaching of Singapore Mathematics. She will also observe teachers and students using the Singaporean curriculum in classrooms, teach model lessons and conduct a boot camp for the school's parents.
Turner first traveled to AIS in September 2012 to help teachers become familiar with Singapore Mathematics and learn how it is best used in the classroom. Over the course of a week, Turner introduced teachers to the world-class Singaporean curriculum that provides students with a solid foundation in mathematics by focusing on visual understanding, connections, number sense, mastery, and problem solving.
AIS adopted the Singapore Math® curriculum in the 2012-2013 school year in order to develop and sharpen students' reasoning skills and allow them to become thinkers and free them from the fear and dislike of mathematics.
AIS Head of School Audrey H. Doryumu said, "We are excited Ms. Turner is coming back to monitor the progress our students and teachers have made in Singapore math. I am also especially happy she will be conducting a workshop for our parents, who have seen remarkable growth in their children's math skills."
Turner said, "I am so thrilled that Head of School Doryumu has invited me back to work with teachers, students and parents at the Association International School. I can't wait to reconnect with old friends and see how teachers and students have advanced in the time since my last visit."
Turner posted a description of her September 2012 visit to AIS on her blog, SingaporeMathSource.com.
About Association International School
Association International School (AIS) was founded in 1963 by Commander George E. Amuah. AIS quickly became the number one school in the nation, producing leaders of multi-national companies as well as professional and governmental organizations. In the 1980s, AIS was confiscated from the owners and nationalized; it soon fell into disrepair and lost its great reputation as a school of excellence. Then, in 2009, the democratic administration led by President John Kufour returned all confiscated assets to their rightful owners; after 25 years, the Amuahs once again controlled AIS .
Following a major renovation, the New Association International School opened its doors to the public again in September 2011. The beautiful main campus is set on 5 acres and is in its first phase of a major capital improvement plan, which will eventually provide state of the arts buildings and resources to supplement the classroom and student education. Today, AIS has 274 students on its campus. Its student and faculty body is diverse and truly representative of an international community.
Association International is always interested in bringing exceptional teachers to Ghana. If you're looking for a rewarding teaching experience, contact their Human Resources department.
About Cassandra Turner
Cassandra Turner has been "Passionate about the Singapore Math® Curriculum" since first encountering it in 2001. An independent math trainer and coach since 2008, Cassandra Turner has had the pleasure of introducing Singapore Math to thousands of teachers, administrators and parents in 33 U.S. states, Mexico, Canada, Ghana and Palau. More than 40 schools have chosen Cassy to help them implement the curriculum.
As a teacher, Cassy used Primary Mathematics at several grade levels, then traveled to Singapore to see the curriculum from the source in 2007 and co-authored a Singapore Math Training Manual approved by the State of California the following year. Cassy currently conducts two different Singapore Mathematics Workshops for the Bureau of Education & Research (BER) and hosts SingaporeMathSource.com (http://www.SingaporeMathSource.com), a website featuring news, resources, reviews and more.
In 2012, Cassy was awarded a contract by the Republic of Palau to assist the Ministry of Education (MOE) with the implementation of the Singapore Math Curriculum.
In July 2013, she will be a featured presenter at the fifth National Conference on Singapore Math Strategies, hosted by Staff Development for Educators (SDE).
Since 2010, Cassy has served as a member of the Board of Directors of Liberty Common School, an award-winning Charter School in Fort Collins, Colorado. Cassy recently was appointed to the Board of the Middle School Mathematics Institute, a not-for-profit corporation whose mission is to help teachers, schools and parents ensure that students succeed at algebra.
Cassy is a devoted champion of Singapore Mathematics who loves to work with schools and teachers to make every child in every classroom a competent and confident mathematics student.
About Singapore Math ®
"Singapore Math" came into use in the U.S. around the year 2000 when U.S. academics, homeschoolers, schools and the media started use the term to refer to a series of math books imported from Singapore. Since then, Singapore Math® is the descriptive term used by customers, educators and the media to refer to the math books distributed by SingaporeMath.com Inc.