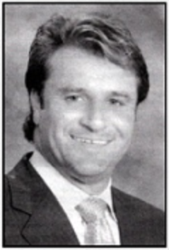 Buffalo, NY (PRWEB) March 25, 2013
Rocco Casullo, Class of 1988 at Sweet Home High School in Amherst, NY, has been inducted into his high school district's honorary alumni Wall of Fame; a title awarded to outstanding citizens in the area, acknowledging their achievements after graduating from the school district.
The Sweet Home District's Distinguished Wall of Fame recognizes individual alumni of the Sweet Home Central School District who are deemed as motivators and role models to younger generations of students. Commemorative plaques are awarded and setup for display in the halls of the honoree's Alma mater, for all to see.
A district-wide panel made up of veteran teachers, honored alumni, administrators, and the Alumni Association board members annually review a set of nominations and select new inductees based on excellence in their field, exemplary service to their community and/or professional field, as well as contributions to humanity at the local, regional, or national level.
Rocco Casullo founded Casullo's Automotive Services in 1990, following his graduation from the State University at Alfred, part of the SUNY university system, in Alfred, NY. Since then, Casullo's Automotive Services Inc. has received numerous American Automobile Association Top Shop Awards for excellence in customer service.
Casullo is an ASE-certified Master Automobile Technician and also one of the youngest mechanics in the nation to be bestowed with the National Institute for Automotive Service's Excellence Award. In 1997, he received the "Young Entrepreneur of the Year" award from the Small Business Administration's Buffalo District.
Rocco Casullo currently serves as a member of Alfred State's five-year review board for auto body, auto service, and truck / diesel programs. Additionally, Casullo has made sizable donations of auto parts and supplies to the school's Auto Body and Truck department, aiding in the growth and sustenance of the department and the fulfillment of learning in future students.
Casullo and his shop are also heavily committed to the local community. Casullo's Automotive Services Inc. has provided numerous internships for aspiring mechanics, creating a launchpad for learning in the field. Rocco is also heavily involved with a local fundraising organization, The Heritage Centers of Western New York, serving as chairperson for a number of events as well as contributing free state vehicle inspections and oil changes to the agency's group home vehicles. Casullo and his company also regularly work with dozens of charitable organizations and education institutions.
Rocco Casullo and Casullo's Automotive Services Inc. offer a plethora of automobile services: from general vehicle maintenance and inspections, to truck accessories and snow plows.