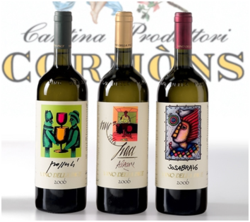 Houston, TX (PRWEB) March 18, 2013
Carmelo's Ristorante Italiano will celebrate Easter Sunday hosting an exclusive Brunch Buffet at both Houston and Austin locations, from 11 a.m. to 4 p.m.
The menu will include the restaurant's best-known specialties as beef stroganoff over rigatoni, veal ossobuco, and halibut provencal. Chef Carmelo and the culinary team will also craft a series of desserts to choose from, including traditional Sicilian Mini Cannoli, Tiramisu, Chocolate Mousse and the Italian Cream Cake. The complete buffet menu can be found online at http://www.CarmelosRestaurant.com/Easter.
Guests will also be able to enjoy Carmelo's updated wine list, that features new Italian gems as Refoscolo dal Peduncolo Rosso (Friuli), Cerasuolo di Vittoria, DOCG (Sicily), and Vino della Pace (Friuli).
Vino della Pace, from Cantina Produttori Cormons, is known as the "wine of peace" and is made from 830 grape varietals grown in Cantina Produttori Cormons' peace vineyard. Every year, three artisans are commissioned to design the labels of Vino della Pace. They make three labels each year for the same wine. Every year, a box of these three bottles is sent to every head of state, including the Pope. It's their innovative way to promote world peace and now, also Carmelo's.
The Easter Sunday Buffet Brunch is $39.95 per person, plus tax and gratuity. The cost per child is $25. For reservations call 281-531-0696 or visit http://www.Carmelosrestaurant.com.
About the company:
For authentic Italian food in a place where customers are treated like family, visit Carmelo's Italian Restaurant, a 2012 Open Table Diner's Choice, which just celebrated 31 years in Houston. Carmelo's was founded by its namesake, Carmelo Mauro in 1981. The authentic Italian restaurant features signature dishes such as ossobuco, red snapper mango over risotto pancake, oysters with champagne reduction, and fettuccine alla carbonara. Sensitive to client's wishes, Carmelo has also introduced delicious gluten and vegetarian friendly menu s. The restaurant also offers a wide selection of wine, beer, cocktails and hors d'oeuvres. Carmelo's has been recognized for its impeccable selection of wines and has received the Wine Spectator Award of Excellence numerous times. Carmelo's is also available for private parties and catering. Carmelo's Italian Restaurant is located at 14795 Memorial Drive in Houston and 504 E. 5th. St. in Austin. For more information, call 281-531-0696 or visit the website Carmelosrestaurant.com.