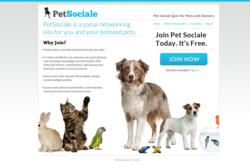 PetSociale.com is a social discovery site that brings the animal and human worlds closer together...
Boston, MA (PRWEB) March 22, 2013
Just over one year ago entrepreneurs Jason Andrews and Matthew Tautt launched the event creation, promotion and social discovery website MyShindigs.com. Now in March of 2013 the two social media mavericks are back at it once again, this time to unveil an innovative social network for pets and pet owners, PetSociale.com.
A few short months ago the PetSociale co-founders caught up one evening with long time friends; a married couple that had been living in Spain. The couple shared some photos of a family trip along with Zeus, the family dog. Zeus would travel along with the happy couple all across Europe at times posing in front of famous landmarks such as the Eiffel Tower in Paris and Buckingham Palace in London. The couple mentioned that it would be wonderful to share these experiences with other animal lovers and pet owners.
It was this evening that led Matthew and Jason to realize that there was currently no significant unifying social platform for animal lovers and pet owners to engage with like-minded folks and share information on a wide array of topics as it pertained to animals. "There needed to be a medium where the pets themselves took center stage through entertaining videos, adorable pictures or memorable moments in addition to better informed diet and health information and so forth. It was at this point that we focussed our energy into the development of PetSociale." Say Jason Andrews and Matthew Tautt. Topics include nutrition, health, availability of local services, activity meet ups and a place where relevant conversations could be exchanged between pet owners, veterinarians, breeders, service providers, retailers and manufacturers of pet related products.
PetSociale brings the animal and human worlds closer together for the common good. "On PetSociale people have the option to take on the identity of their pets as opposed to themselves if they so choose. We built our own platform to provide a comprehensive, useful and in-depth experience that is for anyone and everyone that has ever owned or wanted a pet, loves animals or has been involved in the care, health, nutrition and overall well-being of animals." Add the site co-founders.
The new social networking website focuses on people connecting with those that share similar ideals and interests but may be outside of regular social circles. This new site seems to mirror MyShindigs in that it empowers the users of the site and provides the online tools to interact freely online. Most of all; the website is free to all.
As former Facebook President Sean Parker stated in a recent Airtime interview; Facebook puts groups of friends into silos and enables the sharing of information between friends within those confines, but one of the next online evolutions is about making new, relevant connections based on true shared interests. "We believe once a company tries to become everything to everyone then it really becomes less meaningful and diluted on a direct personal level. Our focus is on creating online worlds for people interested in social discovery along the lines of specific and well-defined interests. We still tie in some of the key features to other social platforms so the value of including existing friends in that social discovery process is not ignored." Say Jason and Matthew.
PetSociale allows members to interact through on-site messaging, event creation, posting articles, posts and videos that others may find helpful or entertaining. "We love animals and are excited to see how the website will evolve and be shaped by members and those who serve the pet community." Conclude Jason and Matthew.
About PetSociale
PetSociale is a social discovery site for pet owners and their pets. It is a place online for pet owners to connect and share information with others who are passionate about pet ownership as well as those who service the pet community such as vets, breeders, service providers, retailers and manufacturers of food and related products. For more information, go to http://www.petsociale.com and register today for free.