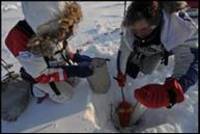 London (PRWeb UK) January 26, 2011
A 'thin blue line' of fresh water immediately beneath the Arctic sea ice may hold the key to understanding changes in ocean current s that influence the prevailing climate of Europe and the East Coast of North America.
The Catlin Arctic Survey announced today that its team of polar explorers and scientists will be heading to the Arctic in March for a 10-week expedition to examine the surface layers of the Arctic Ocean. With specialist explorers working alongside leading oceanographers from United States, Canada and the UK, they will research changes to sea temperature, increased freshwater and ocean currents in one of the world's most extreme environments.
Researchers say the Arctic Ocean plays a vital role in driving powerful ocean currents. Increased levels of freshwater from melting ice sheets, ice caps and glaciers, and warming Arctic waters, may radically unbalance the processes which sustain the most significant of these currents: what is known as thermohaline circulation.
Such major ocean currents carry heat and nutrients around the world's oceans. Any change to conditions influencing these ocean currents could have impacts far away from the Arctic.
Catlin Arctic Survey scientists will work from a unique research station located on sea ice on the edge of the Arctic Ocean in Canada, while a team of explorers will undertake two separate missions: across Prince Gustav Adolf Sea and from the North Geographic Pole towards Greenland. The explorers will collect data from the murky depths below the frozen ocean for a research project devised by Dr. Simon Boxall of the National Oceanography Centre in Southampton, UK.
Dr. Boxall said: "Catlin Arctic Survey 2011 will help us understand the process of ice melt and how quickly fresh water from melting ice is being taken away from the area. The first few metres of water, in particular, are critical for understanding the process of bottom-up ice melting, something that could accelerate Arctic ice melt and disrupt ocean circulation.
Dr. Boxall said there is an immediate need for a better understanding of this little-researched process to inform out-of-date climate models.
"The Arctic is changing faster than IPCC models forecast; over the last four years we have seen the surface area of Arctic ice decline to levels predicted for 2070. If the ice continues to melt at its present rate, predictions made as recently as 2003 could happen 60 years earlier than expected – potentially precipitating changes to ocean currents sooner."
At the mission's floating 'Ice Base' off Ellef Ringnes Island, US scientists from Old Dominion University in Norfolk, Virginia will be investigating how organic material in fresh water near the surface of the ocean may be trapping heat from the sun, causing the upper ocean layers to warm.
Ice Base researcher Dr. Victoria Hill said: "This is a very new area of research and this mechanism represents a key uncertainty in accurate modelling of ice thickness and upper ocean heat content.
Professor Richard Zimmerman of the Bio-Optics Research Group at Old Dominion University said: "Overall, if these changes the Catlin Arctic Survey is investigating contribute to a lowering of the salt content of the North Atlantic, it could have a major impact on the entire planet – from significant temperature drops in Europe to intensified monsoons in Asia."
"It may also impact weather patterns throughout North America, including a dramatic increase in the frequency and intensity of severe storms, including hurricanes and tornadoes across the eastern US. The combination of effects can produce extensive flooding, coastal erosion and damage to major infrastructure, including crops, homes, industrial sites and cities."
While there is historical evidence that these powerful ocean currents have stopped circulating previously in the Earth's history, most scientists today concur this natural phenomenon is more likely to slow. Regional climates, weather patterns and ecosystems would all be altered.
Leading polar explorer and Catlin Arctic Survey Director Pen Hadow said the unique nature of the Survey makes possible vital field research into the fast-changing state of the Arctic.
"This type of science can only be done by or with the support of explorers. Ocean temperatures and salinity below the sea ice cannot be measured using satellites, the passage of ships disturbs the delicate layering under the sea ice, and submarines don't travel close enough to measure the critical first 200 metres of water."
Pen Hadow said: "From a single survey measuring ice thickness in 2009, the Catlin Arctic Survey has grown into a fully-developed, peer reviewed international scientific programme. These Surveys are building a fuller picture of environmental change in the Arctic and compiling a valuable year-on-year dataset for the scientific community."
Stephen Catlin, Chief Executive of Catlin Group Limited, which has sponsored the Survey for the past three years, said: "Ocean currents hold one of the keys to global weather patterns and ocean levels. As no one is 100 per cent sure how current changes in the Arctic could impact other regions of the world, we at Catlin are proud to sponsor scientific research to produce hard facts that will help us prepare for potential changes to our environment in the years ahead."
More information can be found at http://www.catlinarcticsurvey.com
Media contacts:
Media team office line: +44 (0) 20 3170 8089
Rod Macrae Tel: +44 (0) 781 402 9819 Email: rod(at)geomission(dot)co(dot)uk
Heidi Stedman Tel: +44 (0) 20 3170 8089 Email: heidi(at)geomission(dot)co(dot)uk
PHOTO AND VIDEO

High resolution photos are available in this pack and from http://www.catlinarcticsurvey.com/press.aspx
Access passwords can be obtained by calling the Media Team
Broadcast video footage can be obtained from the Media Team
NOTES TO EDITORS
ABOUT THE EXPLORER TEAM
Explorer Team leaders Ann Daniels (UK) and Tyler Fish (USA) are available for interview by phone.
The Explorer Team is conducting two long range expeditions. Ann Daniels (UK), Tyler Fish (US), Phil Coates (UK) and Adrian McCallum (Australia) will first cross Prince Gustav Adolf Sea. They will then fly to the North Geographic Pole for a second, longer phase of the expedition and make their way towards Greenland.
The Catlin Arctic Survey team will face extreme winter to spring Arctic conditions, with a wind-chill factor that could reach minus 75 degrees Celsius.
ABOUT THE CATLIN ARCTIC SURVEY ICE BASE

The Ice Base is a seasonal facility created by Geo Mission for Catlin Arctic Survey. For the second year, it will be hosting an international team of research scientists high in the Canadian Arctic (78°45'N 103°30'W).
The Catlin Arctic Survey Ice Base provides scientists with an opportunity to access this unique but inhospitable environment during a usually inaccessible season for research.
Under the protection of experienced polar guides, scientists from the United Kingdom, United States and Canada are provided with living, dining, research and communications facilities they could not easily supply on their own.
Six scientists will work at the Ice Base gathering data on thermohaline circulation and, for a second year, undertake research into ocean acidification.
ABOUT CATLIN GROUP LIMITED
Catlin Group Limited is the title sponsor of the Catlin Arctic Survey for the third consecutive year. Catlin is an international specialty insurer and reinsurer. Catlin operates six underwriting hubs – London/UK, Bermuda, US, Asia-Pacific, Europe and Canada – allowing it to provide innovative risk transfer solutions to clients and their brokers worldwide. Catlin is proud to sponsor scientific research to increase our knowledge about the impact of climate change and other changes to the environment.
ABOUT GEO MISSON LIMITED
Geo Mission Limited manages and delivers the Catlin Arctic Survey. Founded in 2009 by explorer Pen Hadow, Geo Mission's objective is to advance scientific and public understanding of the natural world. It achieves this by bringing together scientists, explorers and academics to collaborate on pioneering research programmes, which are communicated to specialist and global audiences.
United States contact - Leslie Aun
Tel: +1 703 517 4550
Email: leslieaun(at)gmail(dot)com
###