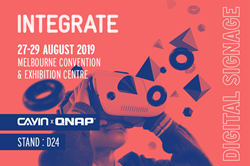 CAYIN Technology devotes itself to developing and providing a complete portfolio of Digital Signage solutions, including diversified, powerful media players, content management servers, and advanced management software for monitoring and generating reports.
TAIPEI, Taiwan (PRWEB) August 16, 2019
CAYIN Technology, a leading player in digital signage solution, collaborates with the strategic partner QNAP® Systems to deliver the smart signage solution. QNAP® Systems provides a comprehensive range of Network-Attached Storage (NAS) and video surveillance solutions based on the principles of usability, high security, and flexible scalability. By integrating with CAYIN Digital Signage Content Management Server (CMS) onto QNAP NAS as a whole new service – CAYIN CMS Station, users can benefit from the smart signage solution to accelerate large scale digital signage deployments and increase the reliability for your digital signage network. Moreover, system integrators can either build up a SaaS environment for large-scale digital signage projects or set up as an on-premise service for a specific application with flexible licensing in response to dynamic business needs.
Digital signage has been widely adopted among retailers, restaurants, and advertisers for promoting brand name awareness, products and services directly to their customers. CAYIN CMS (Content Management Server) answers the market demands of the workforces distributing across multiple locations. Users will profit from a centrally controlled content distribution platform – a solution that delivers timely information at the best efficiency and reliability. CAYIN CMS enables to synchronize configurations across all or part of selected SMP players all at once (requiring CMS-PRO). Furthermore, CAYIN CMS features multi-server architecture, 5-layer group management, CMS-PRO, and add-on management modules to enhance reliability and scalability to realize real-time management and non-stop service.
The security-enhanced CAYIN SMP-2210 Digital Signage Player will also be showcased at Integrate 2019. SMP-2210, a rugged fanless system, is designed for an industrial-grade product in a compact size. This tiny box furnished with 2 HDMI and 1 VGA for 3 displays, either for totally separate uses for 3 distinctive playlists and schedules or as a 3 x 1 /1 x 3 video wall, is powerful yet flexible as it serves like 3 separate equipment. The built-in firewall offers extra protection against open network hazards, resolving one of the main digital media concerns today. This permit SMP-2210 characterize of both cost efficiency and effectiveness - an excellent digital signage player deserving the attention of system integrators and professionals.
Welcome to see our product demo and dig into the solution details. Come and visit our stand #D24 at the exhibition Integrate 2019 in Melbourne Convention & Exhibition Centre, 27th-29th August 2019.