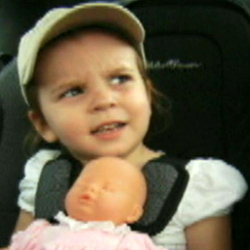 We will have our SAFE team of counselors available on an unending basis as the story of the tragedy remains in our local news
Englewood, CO (Vocus) December 26, 2008
School Safety Partners reports that on the day Caylee Anthony's remains were found in a wooded area at the front entrance to Hidden Oaks Elementary School, school officials and sheriff's deputies quickly worked together to lessen the emotional trauma to the nearly 700 school children there.
About two-thirds of the students walk or ride their bike to the Orange County, Florida school, or are accompanied by a parent. The route for most of them, along with the 250 who ride the bus, takes them through the crime scene that represents the horrific death of 2-year-old Caylee Anthony, who lived around the corner.
The discovery of her discarded skeletonized body late Thursday morning, December 11, brought upon the school a crisis involving parent-child reunification and ongoing mental health issues.
The school's initial reaction was to maintain the normal routine. Kids were allowed on the school's playground during lunch because the crime scene activity was not visible from the yard. However, school personnel were worried that some Special Ed students would be alarmed by the sudden loud noise of media helicopters.
The school contacted NBC affiliate WESH-TV and asked for advance notice of the arrival of the station's Bell Longranger helicopter. The familiar vessel's large fuel tank allows it to stay in the sky above news scenes for long periods of time. The WESH assignment editor agreed to cooperate and teachers were able to adequately prepare their students.
Meanwhile, according to Kathy Marsh, Orange County Public Schools, school staff and law enforcement had to race against time to devise a plan to dismiss about 680 students in an orderly fashion.
Since the Orange County Sheriff's Office had taped off the crime scene and closed the nearest intersection, the front entrance of the school could not be used.
Using Connect-ED, a reverse-911 system, the school notified parents and organized them to wait in a cul-de-sac at the rear of the school. That afternoon, students passed single file through a gate to be picked up one-by-one by parents.
The emergency dismissal was conducted without incident. "When it comes to protecting the kids, Orlando gets it," said Marsh.
Also, Student and Family Empowerment (SAFE) representatives were on hand throughout the day, available to provide counseling to students and staff.
In the days that followed, parents continued to use the rear entrance. School buses, which could only use the front entrance, were ushered by sheriff's deputies.
Dr. Sonayia Shepherd of Safe Havens International, who has published 16 books on school safety and has worked on school crisis response in a dozen countries, notes a successful coordination between the school and community responders. "Hidden Oaks Elementary School rose to the challenge and now has valuable lessons learned for schools across the country," she said.
On any given day of the crime scene investigation, Orange County Public Schools had to work in an environment with 30 to 50 sheriff's deputies on hand, as well as FBI investigators and other forensic experts. The school's response measures were led by Kevin Storch, Hidden Oaks principal; Rick Harris, Director of Security and Safety; and Dylan Thomas, Director of Community Relations.
Now they must create a plan to bring school activities back to normal, and will likely consult with Orange County's School Advisory Committee, the PTA, and other community stakeholders about the potentially traumatizing route to school through the crime scene.
The students are currently on school break and will return January 5. "We will have our SAFE team of counselors available on an unending basis as the story of the tragedy remains in our local news," said Kathy Marsh.
Dr. Shepherd has recommended the U.S. Department of Education's Project SERV (School Emergency Response to Violence) as a source of immediate and long-term funding for recovery efforts. Other assistance is available through the SchoolSAFE Communications Interoperable Communications Pilot Program, and the U.S. Department of Justice Office of Victims of Crime.
School Safety Partners is an all-volunteer organization that assists in drafting and implementing model school safety legislation, and promoting long-term school safety funding through public-private partnerships. Safe Havens International is a leading non-profit school safety center, providing training and resources to over 75,000 schools and response organizations around the world. SchoolSAFE Communications, provider of public safety communications for school districts, offers emergency communications aid to schools that have experienced a traumatic event. School Safety Partners, Safe Havens International, and SchoolSAFE Communications are not accepting donations related to Caylee Anthony or Orange County, Florida. However, they are working together to provide free assistance and resources to organizations interested in helping restore the Hidden Oaks Elementary School community.
###