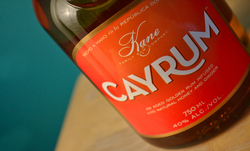 Many people still see rum as part of their pina colada when they're in the Keys. They've never been introduced to the finer rums that are good enough to enjoy straight. They've never had a rum as smooth and unique and drinkable as Cayrum.
Atlanta, GA (PRWEB) February 8, 2011
Every armchair entrepreneur dreams of taking the thing he loves and turning it into a successful business. For Todd and Zach Kane, that dream is becoming reality. The father and son team are the founders and inventors (as well as consumers) of Cayrum, a new brand of premium liquor. Cayrum, a cleverly unique blend of dark Dominican rum, fresh ginger root and natural honey is now available in the US.
Kitchen Concoction
The Cayrum story begins not in the test lab of some giant distillery, but with a father and son tinkering in the kitchen of their Dominican vacation home while entertaining friends. Villa Chillax, in the beach town of Cabarete, was the scene of endless experimentation (and sampling) as the Kanes blended various mixtures of rum, ginger and honey. They also experimented with aging the mixture – waiting, testing and waiting some more – until their Chillixer, as they called it, was perfectly infused.
Of course, they had help in the testing department. "When you have a beachfront vacation home in the islands, there's never a shortage of family and friends to sample the goods," Todd explains. "They all loved it, and more than once we heard 'you should make this and sell it back home!'"
That chorus reached its crescendo at Zach's engagement party a couple of years later. "This time, it wasn't one or two urging us on," Zach recalls, "but more like dozens! Friends of friends, people from work and so on. And for the first time, Dad and I started asking ourselves What If?"
A lifelong entrepreneur, Todd has nurtured many ideas into successful ventures. "There are a hundred hurdles along the way," he says, "but the biggest one is taking that first step – of saying, let's do this!" Zach has continued the entrepreneurial tradition and admits, "We're a family of risk takers. Thrill junkies. And it's a good thing, because the process of launching a brand new liquor is not for the fainthearted."
Taking the Plunge
"In the States, if you have an idea and enough money, launching a new liquor doesn't have to be that difficult," Todd explains. "There are turnkey companies you can call, describe your idea, send them a check and they do the rest. We knew that wasn't for us. Cayrum, as we came to call it, had been a labor of love. We were going to do our best to maintain our vision."
So, armed with more enthusiasm than expertise, the Kanes set out on their own to make Cayrum a reality. They encountered the usual stumbles out of the gate, as well as bureaucratic red tape at home and abroad.
More disheartening to the duo, however, was their inability to find distillers who shared their vision. Their first attempt involved a prominent Dominican distiller, who invited Todd and Zach to tour its facility – and to share some Cayrum.
"It was ironic," Zach laments. "They were really enthusiastic about Cayrum – and those shot glasses came back again and again! But they were too willing to compromise the process that made it great." The distiller insisted upon using artificial ingredients and flavorings that would both lower costs and speed up the infusing process.
So the search for a distilling partner who shared their vision continued, with discouragement slowly settling in. Enter Jose Antonio Barcelo. A member of a renowned Dominican rum family, Jose was eager to get back in the game after the family business had been acquired years earlier. Jose listened to the Kanes, liked what he heard and a partnership was forged. Today, under the watchful eye and expert palate of Master Rum Blender Victor Eugenio, rum history is being made, bottle by bottle – and being imported to America by Charles Vaughn of Premium Beverage Importers.
To Market! To Market!
The labor of love/DIY approach now extends to Cayrum's marketing efforts. "I'm sure that our marketing and ad budget this year is less than some of the big guys will spend to print coasters," Zach shrugs. "But that's OK with us. We're going to take our time and do it right." To gauge Cayrum's potential demand – and plot a course for fulfilling it - the Kanes are going back to school, so to speak. A graduate-level marketing class has signed on to design a campaign for Cayrum later in 2011.
In the meantime, Cayrum is taking its message to the social media realm. Todd and Zach blog prolifically, and keep their Facebook page constantly updated with news about the company, playful videos and reader-supplied Cayrum recipes. Recent posts have excitedly relayed news of the inaugural Cayrum shipment's voyage from the Dominican Republic to Savannah GA.
Cayrum: Changing Perceptions, Spurring Demand
So far, Cayrum's fan base is small but enthusiastic and growing rapidly. Is this the moment for Cayrum's big breakout? Todd is optimistic. "The time is right, or darn close," he says. "Vodka had its day with Grey Goose, and Patron kicked off a tequila surge. Now it's Cayrum's turn.
"Even today, many people still see rum as part of their pina colada when they're in the Keys. They've never been introduced to the finer rums that are good enough to enjoy straight. And they've certainly never had a rum as smooth and unique and drinkable as Cayrum. Zach and I plan to change that!"
Cayrum is a premium liquor made from dark Dominican rum blended with fresh ginger root and natural honey. Created by the Kane Family Rum Company, Cayrum is distributed in the US by Premium Beverage Importers of Atlanta GA. Please visit Cayrum on the worldwide web at http://www.cayrum.com, and on Facebook. Contact Cayrum at info(at)cayrum(dot)com.
# # #